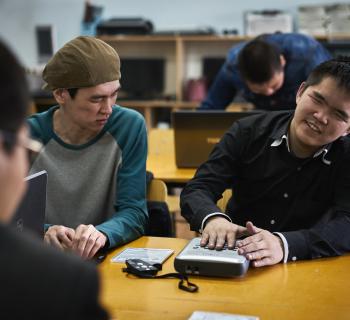 The key barriers to internet access and use, according to recent research, are access to affordable connections, poor internet skills, lack of relevant local content and limited understanding of the value of the internet as an information channel.
The work of the EIFL Public Library Innovation Programme demonstrates how public libraries in developing and transition economy countries, where the vast majority of offline people live, are playing a vital role. They are teaching ICT skills and, through information services focused on local needs, demonstrating how online information can change lives. For example, Zagreb City Libraries in Croatia provides ICT training and employment information to homeless people. Northern Regional Library in Ghana combines ICT and leadership training for vulnerable, unemployed youth. In Mongolia, Ulaanbaatar City Public Library uses digital technology to bring a talking books service to blind and visually impaired people through 21 rural libraries.
WHAT LIBRARY SERVICE USERS SAY
"After the ICT programme, I gained admission into Shikina international school. My friends who find it difficult to work on the computer now come to me for help." – Joyce Gifty Ofori, an unemployed young woman who attended ICT and leadership skills training provided by Northern Regional Library in Ghana.
"I call this programme the breath of freedom." - Natalia Baburina, who uses a wheelchair for mobility, after learning ICT skills through 'A.N. Gorky' Luhansk Region Universal Scientific Library's mobile ICT classes for people living with disability in Luhansk, Ukraine.
"No surrender! I continually spent time on the computers that the library installed in the shelter, and searched for a job online. I have found permanent employment." - Dubravko Bernfest, Croatia, resident of a homeless shelter in Zagreb, participant in Zagreb City Libraries' ICT training and employment counselling and information service.              
WHAT GOVERNMENT OFFICIALS SAY
"The training programme for Roma children and youth in our library is a significant contribution towards integration of the Roma population." -  Vesna Želježnjak, Deputy Mayor, Koprivnica, Croatia, speaking about 'Fran Galovic' Public Library's ICT training programme.
"As policy-makers working with socially vulnerable groups, we were positively surprised to see a cultural institution – the library – showing such sensitivity and ability in improving the lives of homeless people!" - Romana Galic, City of Zagreb Office of Social Protection and Persons with Disabilities, speaking about Zagreb City Libraries' ICT training and employment information service for homeless people (Croatia).