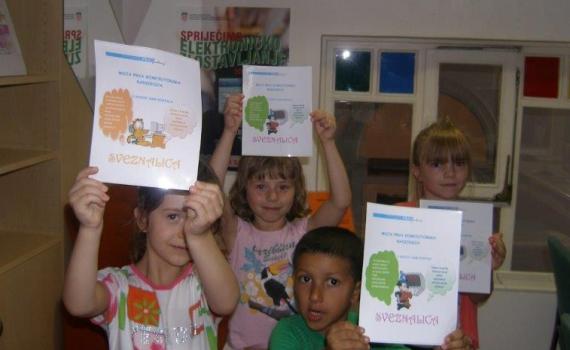 Community need
Through the 'Jump in the Train for a Better World' service, Public Library 'Fran Galovic' is developing valuable technology skills in the Roma community and building trust and respect between Roma and Croatian children in the town of Koprivnica in northern Croatia.
There are about 300 Roma people living in separate settlements in Koprivnica. There are also many Roma, who mostly register as Croats, living among the town's 30,000 inhabitants.
Roma people often struggle with unemployment and poverty, and living conditions are poor. Because the majority of Roma cannot afford or do not have an interest in tertiary and vocational training, they cannot compete for better jobs. Also, because some Roma people continue with their traditional and nomadic way of life, their children do not have consistent relationships with the education system and do not speak Croatian well. These factors – poverty and a different culture and language – work together to set Roma children apart in school, and they are sometimes exposed to prejudice and stigma, which lead to feelings of inferiority. 
Library joins national social inclusion programme
To improve living conditions and promote social inclusion, the Croatian government offers a national programme of assistance for Roma people. Koprivnica town council's local development agenda embraces this vision, and the library's service contributes to the town agenda.
The library's social inclusion service has been growing steadily since 2000 when it began with a public awareness programme about Roma culture and needs. Since 2003, the library has celebrated April 8, World Roma Day, with activities that bring Roma and non-Roma children and youth together. In 2007, the library created a Roma Corner, with over 100 books and articles for children and adults in Romani and other languages.
The free ICT training programme started in 2011. Young adults, teenagers and children from Roma families learn basic computer and information literacy skills with other Croatians. The training is implemented in partnership with the Roma association, Step-by-Step, and the Open University, and takes place in the public library and at the Open University.
The positive impact of the programme
About 75 Roma children and teenagers now have library cards. Every day over 10 stay at the library after school to use the computers for web-surfing and social networking, and to do homework, watch DVDs and read while they wait for buses to take them home.
School teachers are use the library to deepen their understanding of Roma communities, and report that they now have stronger connections with Roma children.
Achievements
In April 2013, Public Library 'Fran Galović' Koprivnica was invited to showcase their award-winning service as an example of good practice in community support for social inclusion of Roma communities at an international conference on Roma education policy.
more public libraries contributing to digital inclusion
Read about more innovative public library services contributing to digital inclusion. PLIP-DIGITAL-INCLUSION