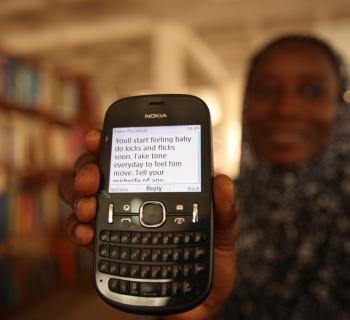 The work of the EIFL Public Library Innovation Programme demonstrates how public libraries can contribute to community health.
In Armenia, Lori Regional Library uses ICT to connect people to their doctors, providing ICT training and free access to computers for online consultations. In Ghana, Northern Regional Library in Tamale partnered with health NGOs to devise and send mobile phone messages focused on maternal health to pregnant women. Kyrgyzstan Libraries Information Consortium launched a 'No to TB' campaign through 190 public libraries, mobilizing hundreds of children, teachers, journalists and others to spread messages about TB prevention. In Kaunas, Lithuania, over-60s are flocking to their local library to access online information about healthy lifestyles, and to attend health events, like yoga classes and lectures on health topics.
What service uses say     
"When my children have health problems, I research the Health Bridge website to find the right specialists - and I find detailed information." - Gayane Pogosyan, who learned how to use ICT at Lori Regional Library in  Armenia.
"The [text] messages helped me to look out for various signs and symptoms. They prepared me psychologically and I am happy to have delivered safely." - Gabriella Wusah, mother, who received SMS through the Northern Regional Library, Ghana, health text messaging service for pregnant women.
"My father was sick and we did not want to go to the hospital. At the village meeting we learned that our library had literature on TB. We came to the library, and librarians were very sensitive in approaching our problem. Thanks to the librarians and their advice, and the doctors, we were able overcome this disease!" -  Jukov family, Novo-Pokrovka Village, Kyrgyzstan, speaking about Kyrgyz Libraries Consortium's 'No to TB!' campaign.
What health service providers say
"The library has established itself as a reliable partner. The public libraries have shown their ability to provide correct information on TB for different segments of the population. We are very glad to continue our collaboration with KLIC." – Saltanat Mamyrbaeva, Coordinator, TB Prevention Programme, Red Crescent Society. speaking about Kyrgyz Libraries Information Consortium's 'No to TB!' campaign.
"I am doing research in polythene and community health. The library was a turning point in my research work. I got most of my literature from the e-health corner. My findings will help the community on methods of disposal and management of polythene waste." - Were K'Nyendweh, Researcher on polythene and community, speaking about Kenya National Library Service's e-health corners project.
"The partnership between the mental health sector and the library provided an opportunity for the women to learn something that they did not believe they were capable of learning. For some, it was difficult to face up to the challenge, but when they were able to open up to the possibility of something new, they realized how capable they were." - Solange Lucena, psychologist, who worked with 'Argentina Lopes Tristão' Public Library in Brazil, which taught women suffering from depression ICT skills.