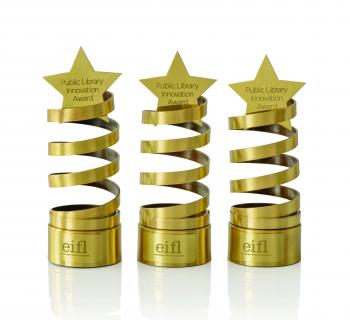 CALL CLOSED ON 20 NOVEMBER 2023. WINNERS TO BE ANNOUNCED EARLY IN 2024.
EIFL Public Library Innovation Award #17, for public and community libraries addressing pressing global issues
English | Español | Français | Русский
Public and community libraries, as trusted community-based institutions, staffed by skilled information professionals, are well placed to develop new ICT-based services to support local responses to the global challenges.
The 17th EIFL Public Library Innovation Award is open to all public and community libraries in developing and transition countries that address any of three pressing global issues.
You may submit applications based on one or more of the issues, but each application must be submitted on a separate form.  The three issues are -
Safety online
Digital technologies and the internet have created new ways for people to engage in and contribute to the economy and society. But they have also brought forward diverse online safety and security challenges. 
The award seeks to showcase innovative public and community library services/activities that help people to recognize and understand threats that exist on the internet (harmful content, misinformation, data theft and other kinds of cybercrime) and develop competencies to avoid them.
Examples -
A public library in Kenya organized digital literacy workshops on cookies, data breaches, deep fakes, geotagging (metadata) and creating secure passwords.
For Safer Internet Day, which takes place annually in February, public libraries in Latvia team up with partners to create engaging educational programmes to raise awareness about online risks and build capacity to avoid them.
Climate change action
Climate change is one of the most urgent and complex challenges of our time, affecting the lives of people and communities across the globe. Everyone can and needs to be part of climate action.
The award is seeking innovative public and community library services and activities that use ICT to increase understanding about climate change and its impact on people's lives, how to deal with emergencies, and mobilize individuals and communities to take action to mitigate climate change in their local environments.
Examples -
A public library in Poland collaborated with environmental experts and ecologists to design a lively digital educational programme for children that inspired them and their families to to take action to protect the environment.
Public libraries in Chile celebrated Environmental month by organizing a series of in-person and virtual activities focused on local biodiversity and recycling. During field trips, children used mobile phones to recognize different plants, insects and animals and learn about how climate change could affect local biodiversity.
Digital inclusion of forcibly displaced populations
Armed conflicts, persecution, other humanitarian crises and climate change have increased the numbers of people forced to flee their homes, to become refugees, migrants and internally displaced persons.
This award is seeking examples of public and community library services and activities that advance digital rights and digital inclusion of forcibly displaced people, by providing access to ICT and teaching digital skills, or helping to navigate through relevant e-services or other useful information.
Examples
A Ugandan public library empowers refugees from the Democratic Republic of Congo and South Sudan to rebuild their lives in their host communities by offering them access to computers and the internet, and digital skills training.
To foster respect for refugees in Europe, and intercultural diversity, several public libraries from different countries engage refugees in storytelling to document their experience and culture on a shared digital platform.
A public library in Lithuania uses free online tools to create an interactive game to help refugee children from Ukraine to mingle with children in Lithuania while learning the Lithuanian language and about Lithuania's culture and environment.
To enter the competition, choose from the three pressing issues and tell us your story.
The deadline for applications is 20 November 2023
Applications will be accepted in English, French, Russian and Spanish.
WHAT WILL YOU WIN?
Each winner will receive a trophy, and a prize of US$1,500.
International publicity – EIFL will share your story widely through its publicity channels and wide network of contacts.
WHO MAY ENTER?
To enter the competition, you must meet all of the following criteria:
You must be a public or community library.
The library must be in a transition or developing economy country [pdf].
The  service/activity should be new, i.e. started during or after January 2021.
The service/activity should have been operational for at least six (6) months, and must be operational at the time of application.
You must provide evidence of positive results and impact of the service/activity including  statistics regarding the number and kinds of people engaged and stories by participants about the impact on their lives and / or environment.
You may submit more than one application, but only one service/activity can be presented per application.
Note:
We will not accept applications seeking funding to start new services.
WHEN CAN YOU ENTER?
This call is now open. The deadline for submitting applications is 20 November 2023.
NUMBER OF AWARDS
There will be more than one winner. The number of winners will depend on the quality of applications received.
FURTHER DETAILS AND HOW TO APPLY
Application form
Rules and guidelines for submission
Selection and eligibility criteria
Frequently asked questions (FAQ)
Online Application Submission