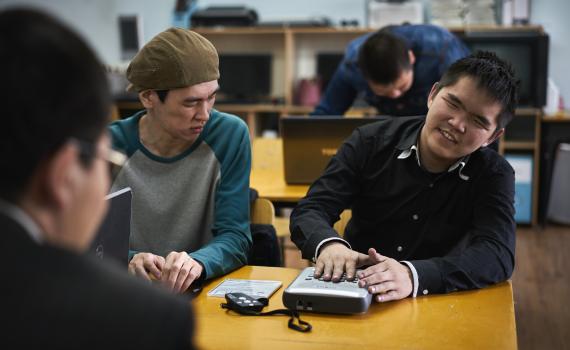 BackgROUND
The Marrakesh Treaty for persons with print disabilities has the potential to fundamentally change the lives of the world's 285 million blind, visually impaired and print-disabled people, open doors to knowledge and education, increase the ability to earn incomes and to participate fully in society. It does this by helping to end the 'book famine' - the fact that only about 7% of published works are made available globally in accessible formats, like braille, audio, large print and digital accessible formats. In the developing world, where 90% of blind and visually impaired people live, the figure is less than 1%. This problem is partly due to barriers created by copyright law, barriers that the treaty seeks to remove.
The Marrakesh Treaty, adopted by member states of the World Intellectual Property Organization (WIPO), has been in force since 30 September 2016. Now the treaty is legally binding on those countries that have ratified. Marrakesh is WIPO's fastest moving and most popular treaty in terms of take-up by member states, reaching the milestone of 100 countries in October 2020. By 23rd June 2023, a total of 119 countries had joined the treaty.
The Marrakesh Treaty provides libraries with an opportunity to boost services to people with print disabilities. Libraries in every country have a long history serving people with print disabilities, and are one of the primary sources of accessible reading material. And under the treaty, blind people's organizations, libraries and other such entities can engage in cross-border sharing of accessible format materials.
EIFL's support for the Marrakesh Treaty
To address the barriers created by copyright law, and to alleviate the acute shortage of books for millions of blind and visually impaired people in developing countries, EIFL actively supported negotiations over five years at WIPO in Geneva, and participated in the Diplomatic Conference in Marrakesh that adopted the Marrakesh Treaty in 2013. Since then, EIFL has been working hard to encourage its ratification and implementation in partner countries, raising awareness among librarians and policy-makers, supporting advocacy campaigns, organizing seminars, responding to government consultations, developing multilingual guides, and providing technical assistance. See  'The Right to Read for People with Print Disabilities', a round-up of the impact of EIFL's support for ratification and implementation of the Marrakesh Treaty (published in EIFL's 2020 Annual Report).
MAIN ACTIVITIES
We support projects and advocacy in EIFL partner countries to encourage ratification of the Marrakesh Treaty and where required, implementation of the treaty's provisions into national copyright law.
We provide practical information on putting the treaty into practice and encourage librarians in partner countries to make full use of their new rights and responsibilities under the treaty.
TIMELINE
2014 - Ongoing
Achievements
In April 2023, the Kenyan edition of the 'Getting Started' implementation guide was launched with KLISC, the Kenya Copyright Board (KECOBO) and Bookshare Africa. Watch video highlights of the launch for the guide prepared by EIFL KLISC and KECOBO.
By December 2022, EIFL advocacy had contributed to 26 countries joining the Marrakesh Treaty benefiting an estimated 37 million people who are blind and visually impaired: Armenia, Azerbaijan, Belarus, Botswana, Côte d'Ivoire, Estonia, Ethiopia, Ghana, Kenya, Kyrgyzstan, Latvia, Lesotho, Lithuania, Malawi, Moldova, Mongolia, Nigeria, Poland, Russia, Serbia, Slovenia, Tanzania, Thailand, Uganda, Ukraine and Zimbabwe.
By the end of 2022, EIFL had reviewed 26 copyright laws and made recommendations for implementation of provisions of the Marrakesh Treaty into national law. 
In 2019, we co-organized the first international workshop dedicated to operationalizing the Marrakesh Treaty among a regional group of libraries - Estonia, Latvia, Lithuania, Poland, Belarus and Russia.
We have developed multilingual resources for librarians and policy-makers including:

In 2014, published the first advocacy guide to the treaty. 'The Marrakesh Treaty: an EIFL Guide for Libraries' provides a straightforward introduction to the treaty, its key provisions and benefits for libraries to support librarians advocating to their governments to ratify the treaty. It is available online in nine languages, Arabic, English, French, Lithuanian, Nepali, Portuguese, Russian, Serbian, Spanish.
In 2018, co-launched a new practical guide with our international partners. 'Getting Started: Implementing the Marrakesh Treaty for persons with print disabilities. A practical guide for librarians' sets out steps for libraries of all types on how to start using the treaty, once the country has joined the treaty and libraries can start offering new services to people with print disabilities. The guide is available in English, French, Portuguese, Russian and Spanish.
We organized the adaptation of the 'Getting Started' guide for the local law in three countries: Belarus (English and Russian), Brazil, Portuguese) and Kenya (English).
TESTIMONIES and PROFILES
How a WIPO treaty for persons with print disabilities can change lives - testimonies presented at the WIPO Diplomatic Conference that adopted the Marrakesh Treaty (2013).
Profiles - EIFL Annual Report.
ADDITIONAL RESOURCES