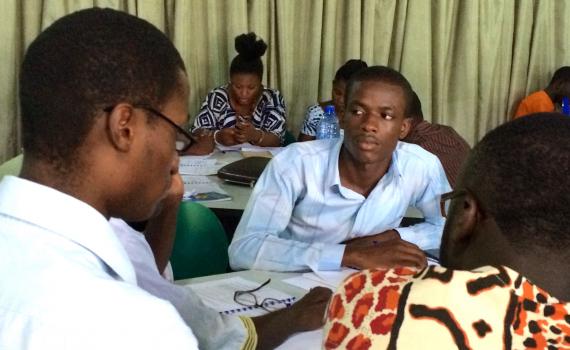 In 2014/16 the EIFL Public Library Innovation Programme (EIFL-PLIP) worked with local and international partners to implement a major capacity building initiative involving 29 public libraries that were providing public access to computers and the internet in Ghana.
The training built librarians' capacity to use digital technology effectively, and to create new public library services that use digital technology to benefit communities. It also built librarians' training skills and confidence to enable them to offer computer and internet training in their communities.
WHAT THE TRAINING COVERED
Module 1: Advanced information and communication technology (ICT) skills for public librarians.
Module 2: Internet searching and e-resources.
Module 3: Developing and managing new public library services, including community needs assessment, service design, writing fundraising proposals, implementation of new services and impact assessment.
Module 4: Communications and advocacy for new services.
Module 5: Leadership, and marketing of library services 
Training was broken into three sessions. Gaps of at least a month between training sessions enabled librarians to return to their libraries and practice their new skills in their daily work.
TIMELINE
2014 - 2016.
IMPACT OF THE TRAINING
Impact assessment conducted four to six weeks after the training found that -  
Over 90% of trainees reported feeling more skilled and confident in using ICT in their daily library work, and in integrating ICT into new library services to benefit communities.
69% of trainees said they had launched new ICT-based services: among these are 13 libraries that have started basic computer courses for children attending schools that do not have sufficient computers to meet pupils' needs; five are teaching adults to use computers and the internet; three have introduced research services using the internet to find specialist information requested by community members.
The number of librarians offering ICT training to community members at their libraries had increased by 28%.
58% of trainees said they had drafted project proposals for new library services and submitted them to potential donors for funding.
WHAT'S NEXT FOR EIFL'S GHANA CAPACITY BUILDING INITIATIVE?
EIFL is working with public library authorities in Ghana to assess systems and structures for continued professional development of public librarians and to launch a training-of-trainers programme in 2020.
FIND OUT MORE