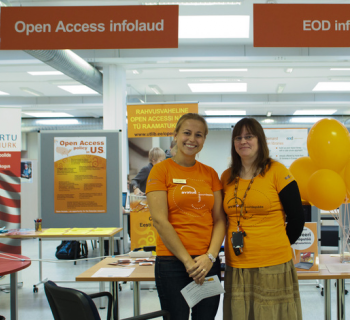 Every year, libraries around the world advocate for change by taking part in International Open Access (OA) Week, a global event established by SPARC and partners in the student community in 2008. The week is an opportunity to take action in making openness the default for research — to raise the visibility of scholarship, accelerate research, and turn breakthroughs into better lives.  
Universities, colleges, research institutes, funding agencies, libraries, and think tanks have all used OA Week as a platform to host faculty votes on campus OA policies, to present on the social and economic benefits of OA, to commit new funds in support of OA publication, and more. The EIFL Open Access Programme encourages libraries across the EIFL network to take part in OA Week, and helps them prepare for this exciting global event. The official hashtag of OA Week is #OAweek. 
'Open for Whom?'
The theme of OA Week 2019, from October 21-27, is 'Open for Whom? Equity in Open Knowledge'.
As the transition to a system for sharing knowledge that is open by default accelerates, the question 'Open for whom?' is becoming ever more important. Whose interests are being prioritized in the actions we take and in the platforms that we support? Whose voices are excluded? Are underrepresented groups included as full partners from the beginning? Are we supporting not only open access but also equitable participation in research communication? These questions will determine the extent to which emerging open systems for research will address inequities in the current system or replicate and reinforce them.
This year's theme will build on the groundwork laid last year during OA Week 2018, when discussions focused on 'Designing Equitable Foundations for Open Knowledge'. The 2018 theme highlighted the importance of making a central commitment to equity as we transition toward new systems for sharing knowledge, and the past twelve months have only seen the pace of that transition increase. Because of this, the OA Advisory Committee decided it was important to focus on equity again in 2019 - to deepen our conversations about being inclusive by design and to turn those conversations into action.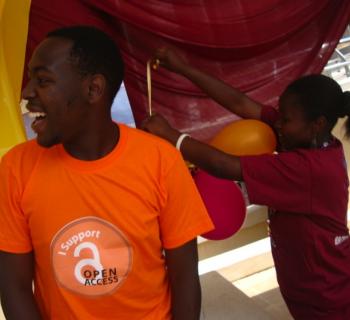 OA Week 2019 - GET INVOLVED
OA Week 2019 takes place from 21 to 27 October. EIFL is celebrating by sharing stories about the impact of OA on the work of researchers and scholars in our partner countries. We'll also be sharng information about the many campaigns, workshops, exhibitions and seminars that our partners are organizing to celebrate the week.
Researchers and scholars, librarians and repository / research administrators - celebrate with us by answering these short questions to tell us your stories and plans OA Week 2019. Send your answers back to us as soon as possible and we'll share them widely during OA Week 2019.
For me, open access means providing an enabling environment for research to take place anywhere in the world without any barriers to scholarly information.
FACTS
EIFL partner countries host advocacy and awareness-raising workshops during Open Access Week.