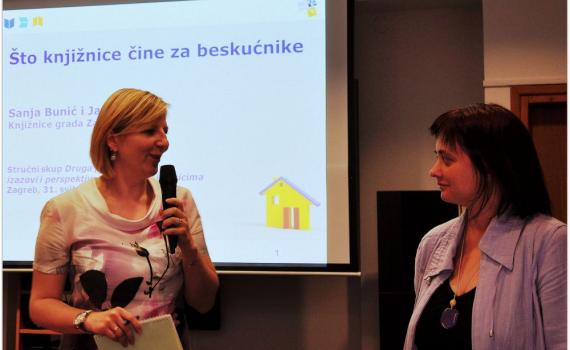 Posted: November 15, 2011
The challenge of homelessness was the focus of a conference held at Zagreb City Libraries (ZCL) in May.
Titled A Second Chance: Challenges and Perspectives in Working with the Homeless, the conference brought together representatives of local authorities, scientists, social workers, psychologists, shelter managers, volunteers and librarians.
Speaker after speaker emphasized the need for greater recognition and understanding of the problems faced by homeless people across Croatia, and for greater government involvement in tackling the issue. Speakers also emphasised how difficult it is for people without permanent homes to break the cycle of poverty.
To encourage other libraries to work with the homeless, the library has published a booklet summarizing the conference proceedings. The conference was well covered in the media. ZCL project coordinator Ms Sanja Bunić was interviewed on the prime-time morning show of Croatia's leading national television station, HTV, reaching audiences across the country.
ZCL's service combines information and communication technology skills with motivation and job-seeking training for the homeless. Workshops take place in Zagreb's biggest homeless shelter, Kosnica, and in the library.
Read more about ZCL's innovative service for the homeless here