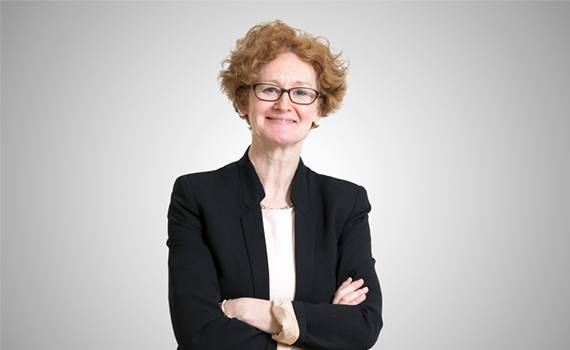 Copyright and Libraries Programme Manager
Teresa Hackett oversees the delivery of a unique copyright service for libraries in over 25 developing and transition economy countries, developing  specialist copyright resources in multiple languages, and providing bespoke assistance on legislative issues.
With over 20 years' experience as a leader engaged in public interest in national and international copyright reforms in the library sector at national and international levels, Teresa has been a frequent contributor at conferences and events around the world.
Her commitment and advocacy skills have helped make EIFL a leading voice for copyright law reform at the international level. At the the World Intellectual Property Organization (WIPO), where EIFL has observer status, Teresa participates in negotiations for global copyright rules that promote access to knowledge for all, and has contributed to over 20 nations joining the landmark WIPO Marrakesh Treaty for persons with print disabilities
Prior to joining EIFL, Teresa held a number of policy, advocacy and technical positions. From 2000-2003, she was Director of the European Bureau of Library, Information and Documentation Associations; before that she provided support to the European Commission library research programme. Teresa was a member of the Committee on Copyright and other Legal Matters of the International Federation of Library Associations and Institutions (IFLA) from 2011-2015 and the World Blind Union (WBU) Marrakesh Strategic Advisory Group.
In 2015, Teresa was awarded a Flash Grant as an agent of social change by the Shuttleworth Foundation for her work on copyright. In 2018, Teresa received the IFLA Medal in recognition of her distinguished contribution to IFLA and international librarianship, particularly in the field of copyright, and for her commitment to enabling equal access to information. In 2020, EIFL was selected as a finalist for the ABC International Excellence Award for Accessible Publishing in recognition of the work of the EIFL Copyright and Libraries Programme.
Teresa has an honours degree in German, History and Politics from University College Dublin, Ireland, a postgraduate Diploma in Library and Information Studies from the University of North London, UK, and a postgraduate Diploma in Legal Studies from Dublin Institute of Technology, Ireland.
Languages: English, German, Irish
More about the EIFL Copyright and Libraries Programme