Event Date
: 03 Sep 2023 - 08 Sep 2023
Bremen, Cologne, Frankfurt, Germany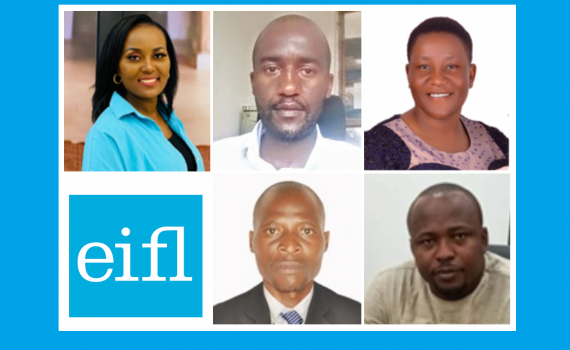 Five public librarians, from Ghana, Kenya, Namibia and Uganda, will travel to Germany as part of the EIFL Initiative for Young African Library Innovators (IYALI), which exposes emerging public library innovators from African countries to experiences and ideas from other continents and countries. 
The young African librarians will participate in a week-long learning and knowledge sharing programme with public libraries in Germany.  The five librarians are – 
Ghana – Evans Korletey-Tene, Eastern Regional Librarian, Ghana Library Authority  
Kenya – Kiriinya Franklin Mutuma, Librarian / Head of Branch at Timau Community Library
Namibia – Aune Ndapewa Naambo Iyambo, Chief Librarian in the Otjozondjupa Regional Library Services
Uganda – 

Mathew Olowo, Librarian / Head of Library Services, Bugiri Public Library
Ruth Bulyaba, Librarian / ICT officer at Kawempe Youth Centre (KYC)
The librarians will visit six libraries, in Cologne, Bremen, and Frankfurt.  EIFL Public Library Innovation Programme (EIFL-PLIP) Manager Ramune Petuchovaite and EIFL-PLIP Coordinator Edvaldas Baltrūnas will travel with the librarians. The programme is co-funded by our partner in Germany – Bibliothek & Information Deutschland, BID (the Federal Union of German Library Associations).