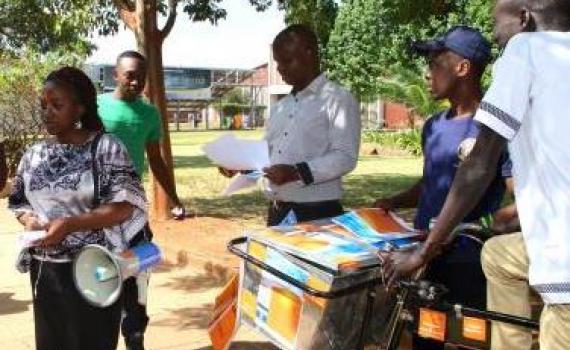 Posted by Guest Blogger, September 11, 2023
Blessing Chiparausha, Librarian at Bindura University of Science Education and EIFL Open Access Coordinator, tells the story of the long partnership between EIFL and ZULC (the Zimbabwe University Libraries Consortium) and shares some of the milestones and achievements arising out of the partnership. 
ZULC member institutions were very receptive towards open access. Of note was the establishment of institutional repositories by nearly all university libraries in the country, starting from 2005 when the first institutional repository was launched at the University of Zimbabwe. These repositories are being used for archiving and making research output accessible locally and globally. 
Librarians have gone further to advocate for institutional open access policies to buttress the open access initiatives at their institutions, with some success. A good example is the Harare Institute of Technology institutional repository policy that was adopted in 2016. 
Some university libraries, for instance at Bindura University of Science Education and Chinhoyi University of Technology, library staff are taking leading roles in the development and management of open access journals. 
It has also become standard practice that students' theses and dissertations are deposited in the institutional repositories.
At both consortium and institutional level, libraries in Zimbabwe have participated in celebrating International Open Access Week every year. The event has been useful in marketing and promoting the use of free and open access resources. The commemorations have become a permanent feature on the calendar of events of Zimbabwean library and information professionals.
Research data skills are among new topics that librarians must learn about in order to support faculty and students with open science. In July 2023 ZULC hosted a workshop for academic librarians, funded by IASSIST (International Association for Social Science Information Service and Technology), with EIFL's input on capacity building and what librarians could do to remain in the loop and develop research data management skills. 
Librarians' thoughts on EIFL's role in driving OA in Zimbabwe
"EIFL's Open Access Programme has resulted in a turnaround of electronic information services provision by university libraries in Zimbabwe. The Programme has helped to widen the use of information sources that are current, credible and relevant and current to the research community. The value of libraries and the role of librarians in the research cycle became visible as a result of the programme's activities over the past two decades." - Blessing Chiparausha, Librarian at Bindura University of Science Education and EIFL Open Access Country Coordinator

Librarians applaud EIFL for organizing and linking them up with important opportunities relating to open access, such as conferences, workshops, bootcamps and webinars. 
Similarly, EIFL's announcements on open access and open science developments, opportunities for open access publishing for local researchers, lists of current and authentic open access journals, and more importantly negotiating for free or largely discounted Article Processing Charges (APCs) have been commended. Zimbabwean researchers have welcomed EIFL-negotiated waivers and discounts of APCs, and there has been a notable increase in the number of articles published in more credible journals.
Suggestions for further collaborations
Although there have been significant strides in open access in Zimbabwe, librarians believe that collaboration with academic staff would help to achieve more. One librarian pointed out that academics require assistance in recognizing and publishing in authentic open access journals, as some had fallen prey to predatory publishers, and others misconceived open access to mean predatory publishing. 
Also, there are still no supporting legal frameworks for open science, especially at national level. Collaboration among librarians, researchers, policy makers and other stakeholders is needed to develop a national mandate or national policy on open science. The policy would address open access resources, open research data, open educational resources, open lecture notes, and many other open resources and services that support scientific research in universities.
More about EIFL's support for open access and open science in Zimbabwe.