The two African public librarians who travelled to Romania as part of the 2022 EIFL Initiative for Young African Library Innovators (IYALI 2022) programme, and the Romanian librarians they met on their journey, were amazed at how much their libraries have in common, writes EIFL Public Library Innovation Manager, Ramune Petuchovaite.
In just a week, the two African library innovators, Kaltuma Sama from Kenya and Peter Balaba from Uganda, shared knowledge and ideas during visits to three small rural libraries (in Codlea, Dumbrăvița and Pietrari) and two large county libraries (in Brașov and Târgoviște). They also took part in the Occupy Library 2022 conference in Bucharest, where they gave spark talks about services introduced by their libraries to address community needs. Both were impressed by how small libraries with limited resources in Romania are making a big impact in their communities.
"I saw that Romanian libraries experience pretty much the same challenges that Ugandan libraries are going through,'' said Peter, who is Head Librarian and Manager at Nakaseke Public Library, which serves a rural community. "The Romanian rural libraries that we saw have limited funds and are understaffed, and like us, they rely on volunteers. They have a lot of services and activities, teaching kids computer coding, reading and storytelling, organizing local history projects, helping farmers to market their products. It is impressive."
"Community engagement is the key to getting things done. For example, the librarian at Pietrari Public Library has rallied teachers, parents and other library members to help out at her library," observed Kaltuma, who is head librarian at a large urban library, the Buruburu branch of the Kenya National Library Service.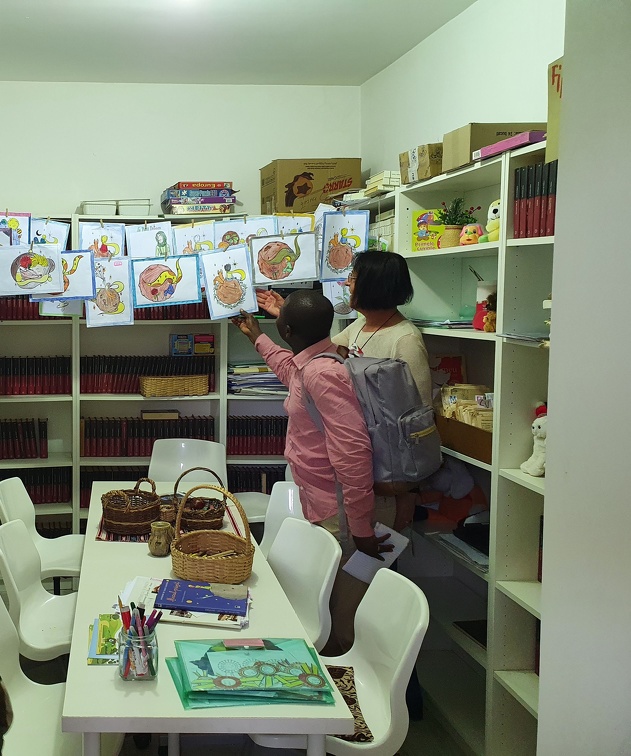 Peter noted some differences with libraries in Uganda. "It seemed to me that the majority of users at the libraries we saw in Romania are schoolchildren. In Uganda we have a mixture of children and adults. I think this is because in Romania more adults have smartphones or they have computers at home. In Uganda people do not, and so they come to the library to use the computers and the internet."
None of the five Romanian libraries had ever been visited by librarians from Africa before. "This was a unique event that made me realize that the differences between libraries are not important when the shared professional values are the same, when librarians' dedication for the benefit of their communities is maximum," said Crina Popescu, of Pietrari Public Library.
Ideas for their libraries back home
The three areas of activity in public libraries in Romania that made the greatest impression on Kaltuma and Peter were computer coding for kids; creative approaches to reading and storytelling, and raising awareness about the environment.
"It was fascinating to see children coding, producing products like robots and tools, and printing them out on a 3D printer. At Pietrari library the children made robots and designed a solar irrigation system for farmers. Right away when I came back home, I started looking for free online content on YouTube to learn to code. As I learn I will also introduce our children to coding," said Peter.
In Kenya computer coding has recently been introduced to the school curriculum, and from July - August this year Buruburu Public Library will be initiating coding clubs for junior library users. "What we saw in Romania was inspiring, for example, at a small Dumbrăvița community library the youth created a device that simultaneously measures the temperature, detects air pollution and tells the time. It is proudly displayed outside the library," said Kaltuma.
At 'G.Baritiu' County Library in Brașov, librarian Melania Luana Butnariu gave a presentation on 'Friends of the Thread', an activity in which children write and illustrate stories that are hung up in the library for everyone to read. "It is a wonderful idea which motivates children to imagine and compose beautiful stories," said Peter.
All the libraries visited were actively raising awareness about environmental issues. The 'Green Library' initiative, in which libraries create green spaces inside their libraries, and gardens outside, was visible everywhere: "The plants create a welcoming environment and people can learn about plants at the same time. We will be planting an outdoor garden at Nakaseke as soon as the rainy season starts," said Peter. "At Buruburu we will start an outdoor garden that will support our educational work, as the primary school curriculum includes agriculture as a subject," said Kaltuma. 
Inspiration at Occupy Library 2022
Environmental concerns were the focus of Occupy Library 2022, a conference that brings together creative and forward-looking public librarians from the Central, Eastern European, Black Sea, Caucasus, and Caspian regions to discuss innovative approaches to librarianship and library operations. The 2022 theme was 'E+Libraries On The Rise!,' with E+ referring to an ecology in which less is consumed and more is shared through a circular economy based on the borrow-use-return concept. 
Several speakers discussed how libraries are engaging their communities in repairing, sharing, reusing and recycling computer equipment, tools, kitchen utensils and clothes to conserve the earth's resources and reduce waste. "Why buy when you can borrow?" speaker Samsurin Welch, Research Associate for the Circular Economy Centre, University of Cambridge Judge Business School, challenged librarians in his keynote speech. 
"The circular economy concept, and the significance of libraries in the circular economy, makes a lot of sense," said Kaltuma. "We can make things at our library from old stuff and give it a new life. We will also do a repairing month at our maker space."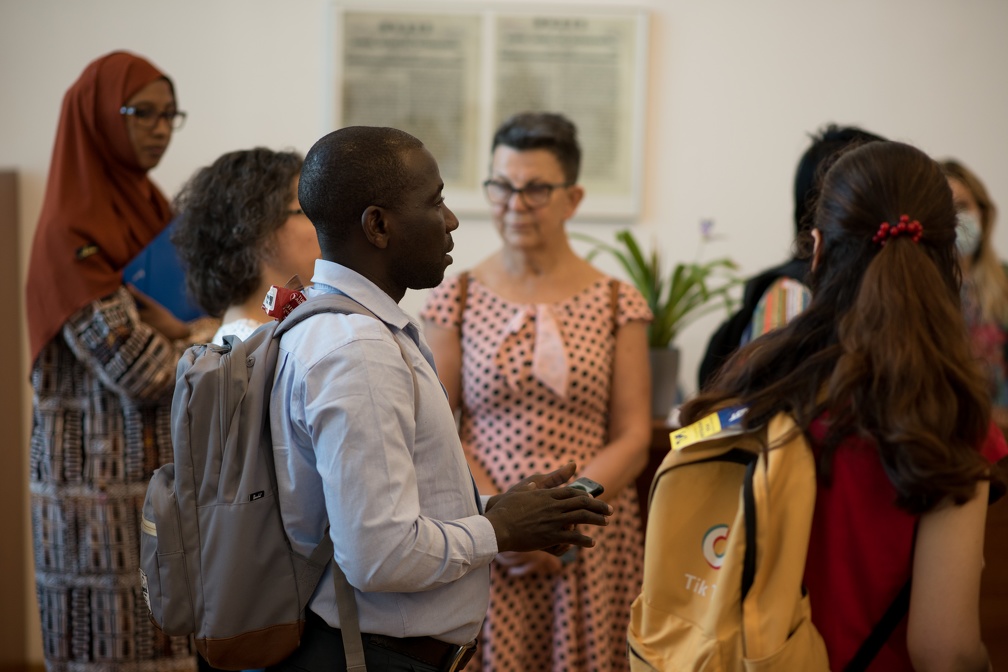 Engaging communities was another inspiring theme at the conference. Public librarians from Armenia, Moldova, Romania, and Ukraine partnering in the project 'Growing Active Citizens Hubs' shared approaches for engaging underserved and hard-to-reach community groups that have shifted stereotypes and changed behavior in local communities. For example, Luhansk Regional Library, Ukraine - before the war with Russia - engaged citizens in 'Accessibility check' activities to raise awareness about the accessibility needs of people with disability in public spaces such as roads and pavements. Antonie Plămădeală district Public Library în Hîncești, Moldova, in collaboration with the Probation Office, targeted their efforts on reintegration and resocialization of persons released on parole from penitentiaries. 'Dimitrie Cantemir' Public Library in Unghen, Romania, focused on the gender balance of library visitors, starting new creative activities to attract men to the library.  
During the conference, EIFL-PLIP organized panel titled titled 'Post-Covid Public Library Variants', in which international speakers discussed permanent changes and innovation in public library service models, operations and procedures resulting from the COVID-19 pandemic. 
Peter and Kaltuma returned home from Romania tired but energized, determined to adapt new ideas in their communities. "All these wonderful services show that a library is a centre for innovation and knowledge sharing. I will try my level best to keep in touch with these libraries, to learn from them online and replicate some programmes in our library," said Peter. 
IYALI, organized by EIFL and partners, is an intensive learning, knowledge sharing and networking experience that aims to expose public librarians from Africa to public library experiences and ideas from other continents and countries.