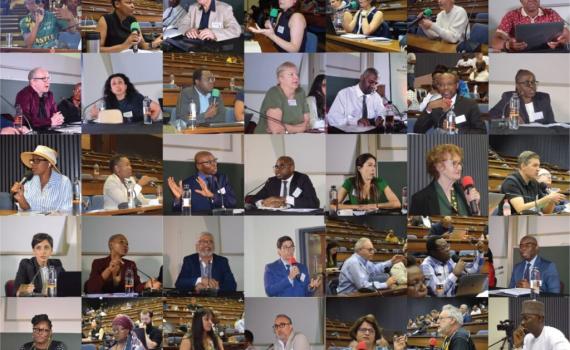 Posted by
Teresa Hackett
, Copyright and Libraries Programme Manager, April 25, 2023
Teresa Hackett, EIFL Copyright and Libraries Programme Manager, looks back at a major conference on the Right to Research that took place in South Africa in January 2023, and the practical and policy insights that were gained during the event.
A major conference co-organized by EIFL, with national and international partners, took place in South Africa on 23-27 January 2023. 'A Right to Research in Africa? A Week of Debates on Copyright and Access to Knowledge' was attended by over 280 legal academics, researchers, librarians, policy-makers and Geneva-based diplomats from over a dozen countries in Africa and beyond. It was the first time these diverse groups, connected by a common interest in copyright, came together to hear and to learn from each other about the copyright framework needed to support modern research.
During the conference, researchers from South Africa, Kenya and Senegal described their first-hand experiences using digital technologies to address important questions on topics such as African languages, artificial intelligence and health, and the roadblocks they sometimes face due to copyright and licensing restrictions. 
Academics and practising lawyers analyzed the legal framework, answering questions on the rights of researchers in using copyright-protected works. Government officials provided insights into the policy-making environment, copyright reforms underway in Africa and developments internationally at WIPO (the World Intellectual Property Organization). The cross-cutting discussions helped to build partnerships, create a shared understanding of the issues and the importance of balanced copyright laws in supporting cutting-edge research in Africa.
Interviews conducted with researchers and senior policymakers from Kenya, Nigeria and Uganda have been made available online, along with the full conference sessions.
AFRICAN LANGUAGE PROCESSING - THE CASE OF MASAKHANE & JW300 
Although Africa has over 2,000 living languages, these account for only a small portion of available resources and publications, and they are severely under-represented in technology and scientific communications. The good news is that modern digital research tools offer new, low-cost opportunities to address this under-representation.
Masakhane, a community-based group of African technologists, set out to resolve the issue using a digital tool known as Natural Language Processing (NLP). NLP uses machine learning to process and interpret text and data. The first step in creating a machine translation model is to feed the NLP programme with texts in the required languages. Ideally the sentences in the text are aligned to easily show the corresponding words in each language. "The Bible is a great source of aligned text," says Kathleen Siminyu, an AI researcher at Masakhane. "It is already set out in chapters and verses, and the work of evangelization means that many African languages are represented in Bible translations."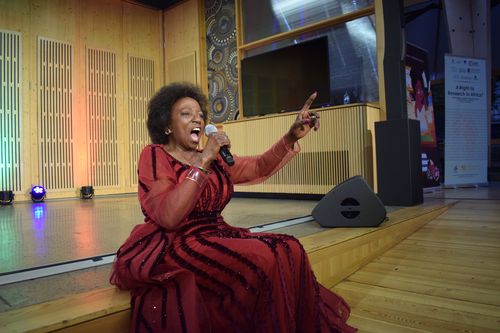 Consequently Masakhane used a dataset known as JW300, created from biblical texts published by US-based Jehovah's Witnesses. JW300, a corpus of over 300 languages containing an average of 100,000 parallel sentences per language, proved to be a hugely rich resource. Young developers from all over the continent were able to plug into the dataset, select the language they wanted to work in, and mine the data to create new translation models in multiple African languages. As the project gained success and interest in the research grew, Masakhane realized they should get legal advice on their use of the data in JW300, and they requested assistance from the Nairobi-based Centre for Intellectual Property and Information Technology Law (CIPIT).
CIPIT found, however, that a copyright notice on the Jehovah's Witnesses website showed that the activity of text and data mining (TDM) was expressly not allowed. A subsequent request by CIPIT, on behalf of Masakhane, for permission to use the data was declined. Does copyright law help? "That depends on the jurisdiction", says Dr Melissa Omino, Acting Director at CIPIT, "since copyright exceptions vary from country to country." For example, a researcher in the US might reasonably rely on fair use, while the legal position of a researcher in Kenya or Ghana is less favourable (Kenya has a more limited fair dealing exception, and Ghana has no such exception at all). Due to the legal uncertainty, while the models created by Masakhane still exist, the JW300 datasets are no longer being used.
"There is now a gap in the community", continued Kathleen Siminyu. "It's sad that even with a plea and a demonstration of how much good has come from the work, the answer to the request [for permission to use the data] was still a blatant no."
The experience of JW300 has been a wake-up call for researchers on the continent, and they are looking to African governments and policymakers for legal clarity in undertaking digital research.
Watch an interview with Kathleen Siminyu from Masakhane and Dr Melissa Omino from CIPIT discussing the case of Masakhane & JW300. (7:08 mins).
AFRICAN LEADERSHIP ON COPYRIGHT REFORM
A session on 'African Leadership on Copyright and the Public Interest', chaired by the South Centre, heard from policymakers at national and international levels.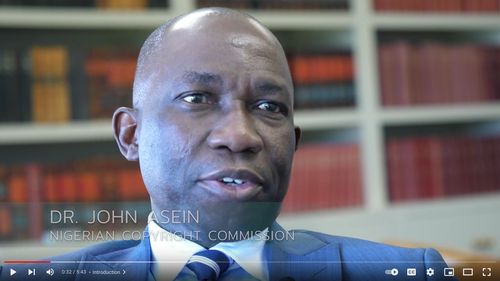 Dr Georges-Rémi Namekong, Minister-Counsellor, Permanent Delegation of the African Union (AU) in Geneva, noted that African delegates, with the support of the AU, are increasingly active in many committees at WIPO, including the Standing Committee on Copyright and Related Rights (SCCR). Discussions at the R2R conference provided exactly the kind of expertise needed to defend and promote African positions during negotiations at SCCR on limitations and exceptions (L&Es).
Top copyright officials from Nigeria, Kenya and Zimbabwe highlighted noteworthy national developments.
Dr John Asein, Director General of the Nigerian Copyright Commission hoped the Copyright Bill, 2022, would soon be signed into law by the President (the Bill was signed in March 2023). The Bill updates L&Es to help guarantee public interest access to creative works. Recognizing the speed of technological change, the current 'fair dealing' provision has been reworked to make it more flexible and responsive to change, and to provide more guidance to the Nigerian courts (thus while Nigeria has moved away from the classic English 'fair dealing', it has not adopted a US-style fair use provision).
Ms Elizabeth Nyagura, Deputy Director General, Zimbabwe Intellectual Property Office (ZIPO), described proposed amendments to Zimbabwe's copyright law that should address gaps in the current legislation, such as access to works in the digital environment and access for people with print disabilities (implementing the Marrakesh Treaty ratified by Zimbabwe in 2019). The new legislation will also create a new copyright commission that will improve implementation of the law, including raising awareness of L&Es and how the exceptions can be used by beneficiaries. The amendment process began in 2019 and is ongoing.
Mrs Sharon Chahale Wata, Deputy Director, Training and Research at the Kenya Copyright Board (KECOBO), noted that guarantees in the Kenyan Constitution (2010) on IP protections, as well as the right to culture, health and freedom of expression provide a backdrop to copyright debates. The Kenyan copyright law (2001) has been amended incrementally in response to issues as they arise, rather than in one big overhaul. Examples of amendments inlclude regulation of collective management organizations (CMOs), and implementation of the Marrakesh Treaty. Amendments can be proposed by the government, KECOBO or individual members of parliament. In addition, KECOBO can issue advisory notes on different topics, as needed.
Watch an interview with Dr John Asein, Director General of the Nigerian Copyright Commission, and Ms Mercy K. Kainobwisho, Registrar General, Uganda Registration Services Bureau, reflecting on the right to research and the importance for Africa of a balance between rights and exceptions (5:43 mins).
BOLSTERING WORK AT WIPO
The new partnerships forged in South Africa between African policymakers, academics and researchers will bolster policy work at WIPO, in particular implementation of a new work programme on L&Es adopted at SCCR/43 in March 2023. The proposal for a work programme was initiated by the African Group and it includes activities on key topics featured at the conference, such as online research, cross-border collaboration between researchers, text and data mining and preservation by libraries, archives and museums. 
The work programme provides a structure and focus to the work of SCCR on L&Es, and it encourages consensus building among all regional groups towards concrete and positive outcomes that will support the right to research not only in Africa, but around the world.
BACKGROUND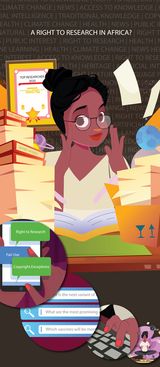 'A Right to Research in Africa? A Week of Debates on Copyright and Access to Knowledge' was co-organized by EIFL with partners including the South Centre, Wikimedia Foundation, Masakhane, Black Stripe Foundation, Future Africa, American University Washington College of Law, the universities of Pretoria and Cape Town and Strathmore University in Kenya. 
Fifty-five speakers presented at 10 plenary sessions and five parallel sessions.The full Right to Research conference programme is here. 
'A Right to Research in Africa?' was supported by Arcadia, a charitable fund of Lisbet Rausing and Peter Baldwin. EIFL is a project partner, coordinating the project's advocacy efforts in Africa.
FURTHER INFORMATION
Read
Infojustice: A Right to Research in Africa. Blog posted by Sean Flynn.
South Centre supports Debates on Developments in Copyright Law and Access to Knowledge in Africa. Report on the Conference 'A Right to Research in Africa?, 23-27 January 2023 by Vitor Ido (Original link)
Balancing Rights: Copyright on African Heritage. A think piece by African Digital Heritage.
Watch 
African Language Processing - Masakhane & JW300. A case study on the Right To Research In Africa. (Interview 7:08 mins)
African Leadership on Copyright Reform: Nigeria and Uganda. (Interview 5:43 mins)
Digital research tools - what's happening in Africa? (Full session 2:21 hours)
African Policy Leadership, Right to Research in Africa (Full session 2:24 hours)
African Voices in Copyright Reform, Right to Research in Africa (Full session 2:15 hours)
Full Playlist Right on Research in Africa Conference, 23-27 January 2023 Compiled by PIJIP, AUWCL