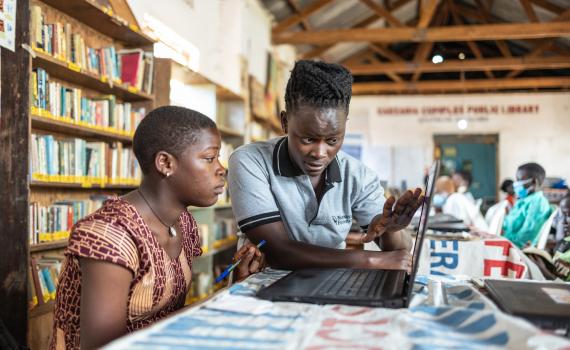 Posted by
Ugne Lipeikaite
, Public Library Innovation Programme Impact Manager, August 17, 2023
The 'Digital skills@your local library' project, implemented by EIFL and partners in Uganda, has drawn to a close. We take pleasure in sharing results of a project impact survey which highlights multiple stories from participants, demonstrating how the training has changed their lives. 
From 2021 - 2023, libraries across Uganda have been empowering individuals and communities by providing them with basic digital skills, which have proven to be life-changing. At the close of the 'Digital skills@your local library' project in June 2023, libraries across the country had reached an overall number of more than 22,000 people, over half of them women, including single mothers, street vendors, business women, unemployed youth, teachers, and healthcare workers.
The project built on the existing network of public and community libraries in Uganda, which are equipped with computers and internet, often acting as learning hubs in their communities. The project improved the capacity of librarians and volunteers working in these libraries to offer digital and mobile literacy skills training, specifically targeting women and unemployed youth.
Communities benefiting from new digital skills
Communities have benefited, with individuals applying their newly acquired skills to launch small businesses, excel at school and secure employment. The effect of this transformation also extends beyond personal achievements, with many examples of participants inspiring and supporting others to learn digital skills, grow businesses and access new livelihoods, such as plumbing, mechanics, soap making and hairdressing. 
In two-and-a-half years, over 6,500 people completed digital skills training in libraries, over 13,000 participated in short outreach events and more than  1,000 were reached through mobile digital literacy camps. Furthermore, nearly 1,500 individuals participated in learning circles in libraries, completing online courses in a variety of topics and skills. 
A project impact survey, following the close of the project, highlighted multiple stories from participants, demonstrating how the training has changed their lives. A school student living in a rural area commented on how "the training has helped me get simple jobs like printing, editing, and formatting documents. It has helped me in my daily life, as I learned how to do things online like reading novels and communicating. It was very handy in my studies". A man living in a semi-urban area said, "I used the internet to get new skills in urban farming, especially vegetable growing."
The survey also showed the importance of libraries, as the sole access point for the internet for 71% of respondents, with 94% reporting that library ICT training significantly improved their digital skills. Almost 80% reported that they had acquired new vocational skills using online resources, facilitated by librarians.
Certificates highly regarded by employers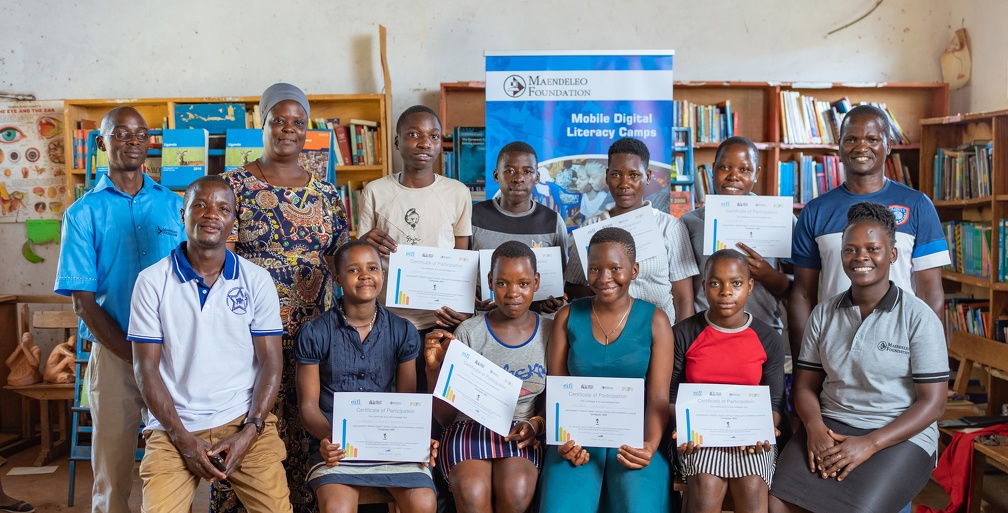 Recognizing and celebrating individual achievements played a crucial role in motivating learners. At the end of their training, libraries issued certificates that were highly regarded by local employers. Graduation ceremonies, graced by local authorities, were regularly held to commend those who had successfully completed the programme.
Inspired by the project's achievements, prominent organizations and businesses in Uganda, including Absa Bank Uganda, Airtel Uganda, and MTN Foundation, have generously donated ICT resources to libraries, ensuring the continuity and expansion of this transformative initiative. The Uganda Communications Commission has also stepped up its roll-out of digital equipment for public access to libraries. Since 2018 the UCC has been equipping 10 libraries annually, and the plan is to equip an additional 30 in this budget year (2023), which started 1 July.
Thanks to the dedication and commitment of libraries and their partners, digital skills training has become a catalyst for change in Uganda. Even as the project closes, the future of digital empowerment through libraries holds immense promise for communities nationwide. 
The Digital Skills @ Your Local Library project, implemented by EIFL, Peer 2 Peer University (USA-based NGO), National Library of Uganda and Maendeleo Foundation (Uganda-based NGO), was supported by the Wehubit Programme implemented by the Belgian development agency, Enabel. 
To demonstrate the impact of libraries in bridging the digital divide, the project produced a video, two online booklets with impact stories highlighting personal experiences of the benefits of the digital skills training (2022 and 2023) , and a case study, which summarizes the implementation, the results and learnings from the project.