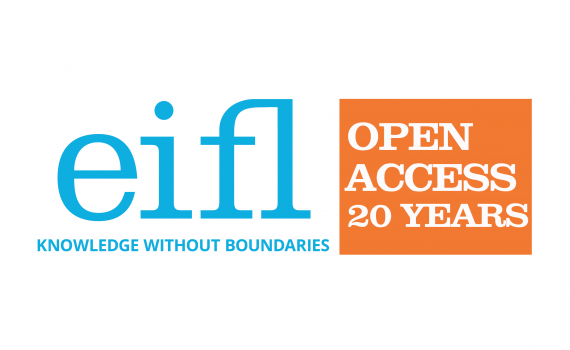 Posted by Guest Blogger, August 28, 2023
Tahleho Tseole, Head of Information and Resource Management at the National University of Lesotho Library, looks back at the growth of open access and open science in Lesotho. 
The National University of Lesotho (NUL) and the Lesotho Library Consortium (LELICO), EIFL's partner library consortium, have taken the lead in raising awareness about open access and open science, and organizing capacity building initiatives for higher education institutions. They have built librarians' advocacy skills, and librarians have become the main advocates for open access and open science. Researchers have been oriented to the benefits of open science and research data management, and open access publishing. There is increased participation in activities such as Open Access Week, which academic libraries collectively and individually celebrate each year. 
In October 2007, the NUL Council approved the development of an institutional repository at the NUL, resulting in the creation of the country's first institutional repository - NULIR. 
Over the years, EIFL has played an important role in advancing development of open access and open science in Lesotho, by supporting advocacy, awareness raising and capacity building initiatives. 
Most recently, EIFL provided a small grant (US$10,000) for open access activities undertaken in 2022. The grant was used to inform the development of a national open science policy for Lesotho, and an institutional open science policy for NUL. 
At the time of writing (June 2023), the NUL policy had been drafted, and was going through different approval stages. The LELICO EIFL Open Access Coordinator had also started processes for developing a national open science policy. 
Open data & open science included in national policy
In November 2022, the government of Lesotho launched its national Research and Innovation Policy. Open access, open data and open science are important elements in the new policy. Among the policy's key objectives is to increase access to research and innovation (R&I) information by strengthening institutions' "ability to manage their own data, create an open data platform to make non-confidential R&I information easily available, share regular updates on R&I related activities, and strengthen bottom-up job creation and economic growth".
NUL has also considered piloting Research Data Management (RDM) with post graduate students' datasets following RDM workshops held at NUL and at the University of Pretoria in South Africa. NUL considered using the Figshare institutional repository platform to manage data, to link directly with the national open data platform, in line with the National Research and Innovation Policy. However, Figshare proved to be too costly, and NUL is investigating DSpace as an alternative RDM tool.
More about EIFL's contribution to open access and open science in Lesotho.