Posted by
Teresa Hackett
, Copyright and Libraries Programme Manager, June 27, 2023
On 27 June 2013, member states of the World Intellectual Property Organization (WIPO) adopted the Marrakesh Treaty for persons with print disabilities. Teresa Hackett, EIFL Copyright and Libraries Programme Manager, looks back at this great achievement, examines the treaty's take-up over the last decade, and calls on governments to speed up implementation into national law.
The Marrakesh Treaty for persons with print disabilities was adopted by WIPO member states on 27 June 2013 in Marrakesh, Morocco, after intense negotiations at a specially convened Diplomatic Conference to finalize the international treaty. Hundreds of government negotiators and accredited organizations, including EIFL, from 155 countries participated in the eleven-day conference that resulted in the landmark treaty that creates mandatory exceptions to copyright for the benefit of people who are blind, visually impaired or otherwise print disabled.
The treaty set out to address a huge problem: the fact that only 1-7% of published books are in a format that blind and visually impaired people can read. As a result, millions of people are deprived from reading books and newspapers, gaining education and employment, and participating meaningfully in society. This problem was partly caused by obstacles created by copyright law - obstacles that the treaty commits to remove. 
The 'Miracle of Marrakesh'
Hailed as the 'Miracle of Marrakesh', the treaty was a major success for countries that proposed the treaty, organizations representing blind people, and for libraries that helped to shape the successful outcome. With large collections of accessible books, expertise in delivering information services and a mandate to serve all their users equally, librarians recognized from early on that they had an important stake in the negotiations that began in earnest in 2009 at WIPO's Standing Committee on Copyright and Related Rights. 
Over the next four years, EIFL and global library representatives actively engaged with government delegates, worked closely with civil society allies and made dozens of interventions in support of the treaty at negotiating sessions in Geneva, that culminated in the convening of a Diplomatic Conference in Marrakesh and the adoption of an agreed text.
Now the Marrakesh Treaty has become a true WIPO success story. One hundred and nineteen countries from five continents have already joined the treaty - over 60% of WIPO's membership. EIFL is proud to have supported more than one fifth of these ratifications in Africa, Asia and Europe (current and former partner countries -  Armenia, Azerbaijan, Belarus, Botswana, Côte d'Ivoire, Estonia, Ethiopia, Ghana, Kenya, Kyrgyzstan, Latvia, Lesotho, Lithuania, Malawi, Moldova, Mongolia, Nigeria, Poland, Russia, Serbia, Slovenia, Tanzania, Thailand, Uganda, Ukraine and Zimbabwe). Take-up in low income countries is especially important since 90% of people with print disabilities live in developing and least developed countries.
To make the Marrakesh Treaty a reality, however, two further steps are needed: implementation of the treaty into national law and its wide take-up by libraries serving blind and visually impaired people. To ensure both steps happen in a timely fashion, librarians around the world have continued to advocate to their governments and in their local communities.
Libraries embracing the Marrakesh Treaty
After the treaty was adopted at WIPO, EIFL shifted its focus to the national level where we advocate for ratification and implementation in partner countries, in particular seeking to ensure that the full benefits of the treaty are translated into the necessary copyright law amendments. 
We also support librarians to actively use the treaty. Our two key guides, 'The Marrakesh Treaty: An EIFL Guide for Libraries' and 'Getting Started', a practical guide for librarians (published jointly with IFLA, World Blind Union, Canadian Association of Research Libraries and University of Toronto Scarborough) are available in nine languages (Arabic, English, French, Lithuanian, Serbian, Spanish, Nepali, Russian, Portuguese). They have been viewed more than 5,000 times on the EIFL website.
Librarians in Marrakesh countries around the world are embracing their new rights and responsibilities under the treaty, undertaking surveys to identify user needs, agreeing on metadata standards for better discoverability of accessible resources, creating federated catalogues, and establishing new mechanisms for cooperation. Some book exchanges operate on an informal basis in response to individual reader requests (e.g. between the Lithuanian Audiosensory Library and Łukasz Górnicki Podlasie Library in Poland), some initiatives focus on serving common language needs across regions (e.g. ONCE, national organization of blind people in Spain holds the world's largest quality collection of accessible books in Spanish), and other services are global in ambition (e.g. Accessible Books Consortium (ABC) Global Book Service). For other examples, see 'Success for People with Print Disabilities: The Marrakesh Treaty'.
Marrakesh in action - a humanitarian treaty
Since 2022, the Marrakesh Treaty has assisted libraries in Europe that are supporting Ukrainians with print disabilities displaced as a result of the Russian invasion of Ukraine.

The international legal framework provided by Marrakesh - allowing the making and sending of accessible format copies across national borders - was implemented by the European Union in 2018. It has proved vital to enable libraries in Europe to start creating and building accessible collections in Ukrainian for refugees. The collections support children with print disabilities to continue their education, and adults to read in their mother tongue. Thanks to the treaty, libraries in Europe can share these accessible resources with libraries and Ukrainians with print disabilities in EU countries and with other Marrakesh Treaty countries around the world. 
Multilateral cooperation made possible by the treaty has resulted in over 420 accessible books in Ukrainian becoming available through libraries. In Lithuania, an EU member state that implemented the treaty into its national law in 2018, the Lithuanian Audiosensory Library (formerly Lithuanian Library for the Blind) obtained 370 books for children and teenagers (c. 270 audio books in mp3 format, and 100 Braille books in print and electronic Braille format) through a cooperation agreement with the Lviv Regional Branch of the Union of Disabled Persons of Ukraine. Work to ensure interoperability with reading apps in other EU countries, including Finland, Belgium and Germany, is in progress.
In the United States, that implemented Marrakesh in 2019, the Library of Congress National Library Service for the Blind and Print Disabled (NLS) sourced materials produced in Cleveland in the 1980's and 90's, home to one of the largest and longest established Ukrainian immigrant communities. The material was converted from analogue to digital format, re-formatted for compatibility with the online catalogue of the Accessible Books Consortium (ABC), and checked for quality by a Ukrainian speaker. As a result, 59 books are available for download from ABC by libraries in Marrakesh countries. The titles include translations of world literature, as well as original Ukrainian works.
We are delighted that Ukraine has become the latest country to join Marrakesh, smoothing the legal path for cross-border sharing of accessible format copies with other Marrakesh countries. The treaty will enter into force in Ukraine on September 8, 2023. In addition, amendments implementing the treaty into national copyright law have already been adopted by Ukraine's parliament, so that libraries in Ukraine serving people with print disabilities can soon start to benefit from the Marrakesh Treaty.
The implementation game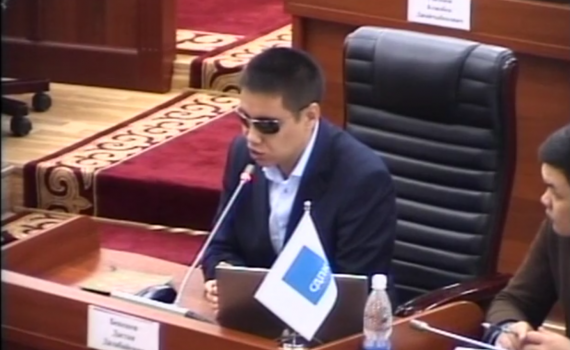 Most countries join the Marrakesh Treaty first, followed by implementation into national law. (In a small number of countries, international treaties are self-executing and thus do not require legislative implementation, for example, Moldova). In others, such as South Africa, the national law is aligned to the treaty's provisions before acceding to the treaty.
In 2017 South Africa began an overhaul of its pre-Internet era copyright law. As part of the reform package, the government declared its intention to join the Marrakesh Treaty, and Marrakesh-compliant provisions were included in the copyright bill. Then progress got bogged down, mainly due to opposition from rights holders on a range of other issues contained in the bill, leading to long delays. 
Blind SA, an organization that advocates for the rights of blind and visually impaired people, decided to act and issued a legal challenge in South Africa's highest court to enforce their rights under Marrakesh. In 2022, the Constitutional Court unanimously found in favour of Blind SA: certain sections of the 1978 Copyright Act were deemed unconstitutional because they unfairly discriminated against blind and visually impaired people. The court's judgement, that takes a strong human rights approach, is an important precedent that could help blind groups and library advocates in other countries that may be facing similar delays in national implementation of the treaty.
The government was given two years to remedy the situation. In the meantime, people with print disabilities, and entities such as libraries, may freely convert books into accessible formats without fear of copyright infringement. (On 20 June 2023, the Copyright Amendment Bill (CAB) containing the new Marrakesh provisions took a step forward when the National Council of Provinces' Select Committee on Trade and Industry finished voting on amendments to the copyright bill (and the performers protection bill), hopefully paving the way towards adoption of the CAB in the autumn by the legislature, and signing into law by the President).
Call for action: implement Marrakesh into national law
EIFL congratulates all countries that have joined the Marrakesh Treaty. However, according to a tracker compiled by the Association of Research Libraries (ARL), over half the countries that have ratified or acceded to Marrakesh have yet to incorporate the treaty's provisions into national law.
To mark the 10th anniversary of the adoption of the Marrakesh Treaty, we urge those countries to implement the treaty into national law at the earliest opportunity. In EIFL partner countries, we are encouraging governments to redouble their efforts to speed up the legislative process, and we are supporting libraries in partner consortia to be 'Marrakesh-ready' so that libraries everywhere can play their part in realizing the goal of the treaty to end the global book famine.