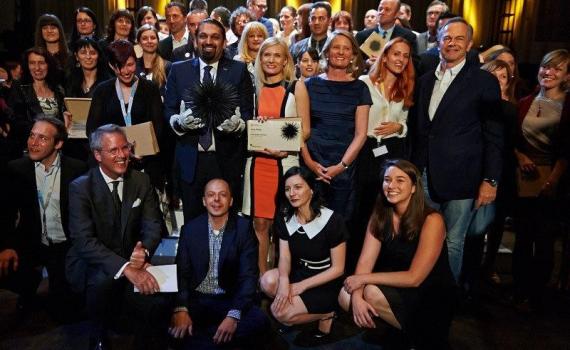 Public Library Radislav Nikčević in Jagodina, Serbia, has won a prestigious ERSTE Foundation Award for Social Integration 2013, for its AgroLib-Ja service which improves farmers' lives. The service was launched in 2010 with support from EIFL's Public Library Innovation Programme (EIFL-PLIP).
The 35 winners were announced on June 27 at a ceremony attended by over 700 representatives of business, civil society and the media, in Vienna (Austria), in the MuseumsQuartier. The awards celebrate and promote the work of organizations fighting for social integration of marginalized communities in Central and Eastern Europe.
The 35 winners were selected by an internal jury of experts in social integration from almost 2,000 applicants. The winner of the €40,000 (about US$52,400) first prize was Little People Romania for the project 'I Am Not Afraid', which helps children to understand and cope with cancer. Second prize (€30,000 / US$39,000) went to Slovene Philanthropy for their 'Social Integration of Migrants' project, which promotes human rights of migrant workers in Slovenia.
Public Library Radislav Nikčević's AgroLib-Ja service was one of 26 projects that each won honorary awards of €16,000 (US$21,000).
AgroLib-Ja increases farmers' access to information by building farmers' computer and internet skills and by providing free internet access at five village libraries. The service includes an agricultural web-portal for farmers to access and share information, and an online market, where farmers are advertising and selling their produce. The library also hosts agricultural events, where farmers meet experts from government and non-governmental agricultural agencies, and has increased its collection of books and journals on agriculture.
Before introduction of the service in 2010, many village libraries in central Serbia had fallen into disrepair, and farmers were struggling to access the information they needed to improve their farming. The AgroLib-Ja service has revitalized five village libraries and connected farmers to each other, to experts and the wider world.
AgroLib-Ja is the second PLIP-funded service to win an ERSTE Foundation Award for Social Integration. In 2011, Public Library Braka Miladinovci in Radovis, Macedonia, won €15,000 (US$19,500) for the Creative Minds Create Job Opportunities project, which motivates unemployed people, especially women, to find employment.
Click the links to read more about Public Library Radislav Nikčević's AgroLib-Ja service and the (erstestiftung.org/activities/awards) ERSTE Foundation Awards.