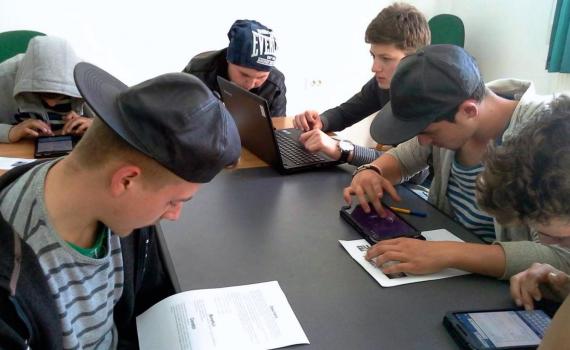 'Alexandru D. Xenopol' Arad County Library in Romania has shared results of its 'App Library' project for teenagers, which was implemented with support from the EIFL Public Library Innovation Programme (EIFL-PLIP).
In just one year, working with the Arad County School Inspectorate and school teachers, the library developed a comprehensive eight-module media literacy and digital skills curriculum for young people.
The library's training course taught teenagers to access and critically assess online media and information. In addition, teenagers learnt practical media, publishing and communications skills. To raise awareness about software choices, and to encourage curiosity, the library chose to use free and open source software, which is available online at no cost and comes with free online tutorials and community support.
In an intensive programme of after school sessions, the library trained and awarded certificates to 199 young people.  
Library's training fills a key gap in children's education
The library's project fills a key gap in the Romanian education system. Research in 2009 and 2013 found that the media education was not adequately addressed in schools. The library's curriculum is now available for use in schools and libraries across the country.
The project has demonstrated the ability of public libraries to supplement the school curriculum by providing extramural activities in a non-formal setting.
The library has set in motion plans to continue their training for another school year, and is designing advanced training for students who completed the first course. To further develop teenagers' critical thinking skills, the library is expanding the curriculum to include a session on writing structured, encyclopedic articles to enrich the Romanian version of Wikipedia. This will be done in partnership with the Wikipedia project in Romania.
In addition, the library will address the wider issue of educational change in Romania by encouraging inclusion of media education and media literacy in the national school curriculum, and, through training, to build teachers' skills and confidence to teach media literacy.
Read more
Read a two-page case study about the impact of the project in the community and on the library.
Read more about 'Alexandru D. Xenopol' Arad County Library's 'App Library' project.
Background
'Alexandru D. Xenopol' Arad County Library's 'App Library' project is one of 10 public library projects for children and youth funded by EIFL-PLIP in 2014. Over the next few months, we will be publishing further case studies about the impact of these projects.
Since 2010, EIFL-PLIP grants have initiated and supported library services and projects that are reaching communities through over 300 public and community libraries in 27 countries in Africa, Asia, Europe and Latin America.
EIFL-PLIP works across six crucial community development issues: agriculture; digital inclusion; education; employment; health, and supporting the needs of women and girls.
Read more about EIFL-PLIP grantees and their innovative services.