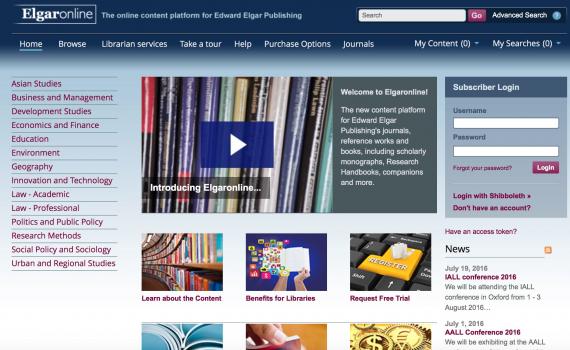 EIFL is extending its current agreement with Edward Elgar Publishing to provide access to their e-books and journals.
The Edward Elgar package for EIFL contains 288 development studies and development economics e-books published in 2015 or earlier, as well as seven journals covering law, economics, and management and leadership studies - now also including the Cambridge International Law Journal and the Asia Pacific Journal of Environmental Law. The content can be accessed on Edward Elgar's content hosting platform www.elgaronline.com; MARC records for e-books can be downloaded free of charge to allow the e-books to be discoverable from a library's catalogue.
The agreement runs until December 2019 and is open to library consortia and over 1,000 libraries in 32 EIFL member countries:
Algeria, Angola, Armenia, Azerbaijan, Belarus, Bosnia and Herzegovina, Cambodia, Congo, Ethiopia, Fiji, Georgia, Ghana, Kenya, Kosovo, Kyrgyzstan, Laos, Lesotho, Macedonia, Malawi, Maldives, Moldova, Namibia, Nepal, Palestine, Senegal, Sudan, Tanzania, Uganda, Ukraine, Uzbekistan, Zambia, Zimbabwe
Find out more about the EIFL-negotiated agreement for Edward Elgar Journals and Development Studies e-books. Institutions from the above countries that are interested in getting access to this content set up should contact the EIFL-Licensing coordinator in their country, who will send them documentation to complete.