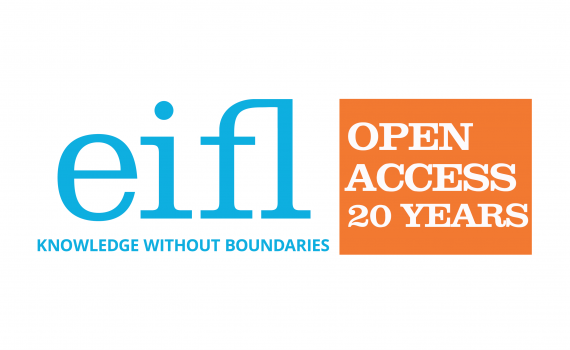 Posted: September 19, 2023
To mark the 20th Anniversary of the EIFL Open Access Programme (EIFL-OA), EIFL has created a special page on our website. The web page outlines the history and results of the programme, and  shares stories from our partner library consortia about achievements in their countries.
We also received many messages of congratulations and support from our global partners and take pleasure in sharing these too. 
EIFL was among the original signatories to the Budapest Open Access Initiative (BOAI) that coined the term open access (OA), and in 2002 BOAI launched a global campaign for the immediate, online, free and unrestricted availability of all peer reviewed research literature. 
A year later, early in 2003, EIFL launched EIFL-OA to take forward the BOAI vision, to raise awareness about open access, to set up open access journals and repositories and to introduce open access policies in our partner countries. 
Today, open access to research literature is included in the broader framework of open science, an approach that makes all aspects of scientific research open and transparent at all stages, from research design to dissemination of results.
Over the past 20 years, EIFL-OA has worked with partner library consortia to raise awareness and build open access and open science skills of many thousands of librarians and scholars in developing and transition economy countries. The programme has contributed to the establishment of over 4,000 open access journals, over 1,000 open access repositories and over 200 open access and open science policies in EIFL partner countries. EIFL-OA has also contributed at the global level, for example, by participating in drafting and supporting implementation of the UNESCO Recommendation on Open Science.
Thank you to everyone who celebrated the 20th anniversary of EIFL-OA with us. Enjoy the web page!