Dar es Salaam, Tanzania, United Republic of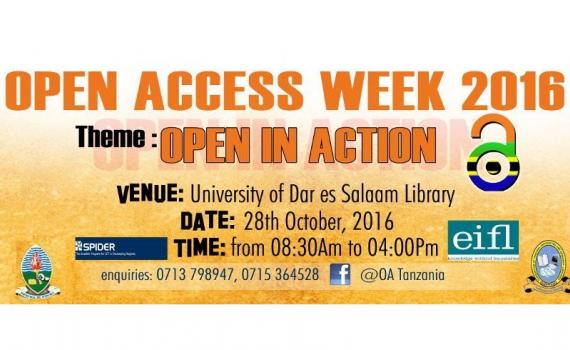 The Consortium of Tanzania Universities and Research Libraries (COTUL), EIFL's partner consortium in Tanzania, will host an Open Access Week 2016 workshop on the theme 'Open in Action' at the University of Dar es Salaam Library.
The workshop will -
Cover the overview and benefits of open access (OA);
Discuss the status of OA, open data and open science initiatives in Tanzania, and government support for OA, open data, open education and open science through the Tanzania Commission for Science and Technology (COSTECH);
Address issue of OA policy implementation in Tanzania, and
Present Tanzania Creative Commons initiatives.
The workshop is a part of a two-year EIFL project titled 'OA policy development in Kenya, Tanzania and Uganda to make more digital content available'. The project works with 16 research intensive universities in Kenya, Tanzania and Uganda to develop and adopt OA policies, and to enhance OA repositories.  
The project is funded by Spider, the Swedish Programme for ICT in Developing Regions, located at DSV, Department of Computer and System Sciences, which is part of Stockholm University.