Event Date
: 22 Oct 2018 - 28 Oct 2018
Online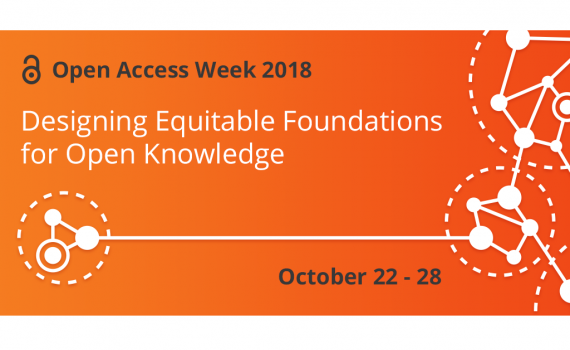 EIFL and partners in the OpenAIRE and FOSTER (Facilitating Open Science Training for European Research) projects are celebrating Open Access Week 2018 (22-28 October) with a programme that includes tutorials and webinars on open science, open access and open data.
Open Access (OA) Week is an annual, global event established by SPARC in 2008 to raise awareness about open access (OA) and to call for OA to be the new norm in scholarship and research. The theme of OA Week 2018 is 'Designing Equitable Foundations for Open Knowledge'. Scholarly systems are in transition. As open becomes the default, OA Week 2018 focuses on the need for all stakeholders (governments, funders, universities, publishers, and scholars) to design new open systems that are inclusive, equitable, and truly serve the needs of a diverse global community.
ABOUT THE OA week 2018 PROGRAMME
The programme, which EIFL is coordinating, is organized into five tracks, each with its own topics and learning goals. Each track includes online tutorials for watching, learning materials to browse, and one or more webinars and online Q&A sessions that you can attend.
All online tutorials, learning materials and webinars are open to everyone. However, if you would like to submit any questions beforehand, receive reminders or want to be kept in the loop afterwards, you'll need to register here (there is only one form, for all tracks and webinars).
The five tracks are -
Open Access, Open Data, Open Science: what you need to know and what are the policies in Horizon 2020 (H2020)?
Everything you need to know about FAIR data (that is, data that meet the standards of findability, accessibility, interoperability, and reusability), data repositories, text and data mining and research data management.
Legal and ethical considerations for sharing research data.
Open Science Policies: what you need to know, how to advise on good policy making, and information/trends on policies in Europe.
The OpenAIRE and FOSTER projects: services and activities.
WEBINARS AND Q&A SESSIONS
Monday, 22 October
11.00 Central European Summer Time (CEST) - Q&A OpenAIRE Project for Funders
15.00 CEST - Q&A Open Access and Open Data in H2020
Tuesday, 23 October
11.00 CEST - Make your content count - OpenAIRE Project Content providers Dashboard: service for repository managers
14.00 CEST - OpenAIRE Project - 'Open Science as-a-Service - the OpenAIRE Dashboard for Research Communities': live demonstration.
15:00 CEST - Q&A: Research Data Management and Data Management Plans
Wednesday, 24 October
11.00 CEST - Q&A: Text and Data Mining (TDM) and Machine Readability of Open Access research
13.00 CEST - Q&A: FAIR data and trusted repositories
15.00 CEST - OpenAIRE Project - Ask us Anything session
Thursday, 25 October
11.00 CEST - Update on trends in open science policy making
14:00 CEST - Guest webinar: OpenMinted (services for content providers, researchers and TDM software developers)
Friday, 26 October
11.00 CEST - Legal and ethical aspects of sharing data
14:00 - Q&A: FOSTER Project - Ask us Anything session
See further information about the agenda of webinars and tutorials for the week.