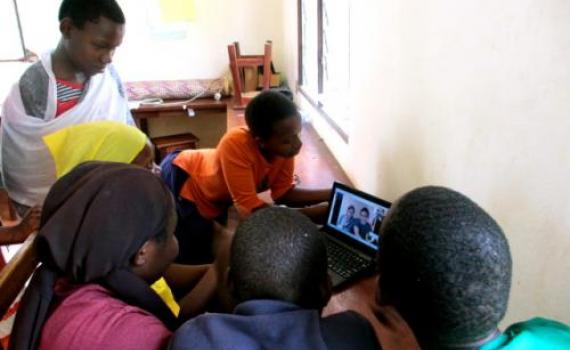 The innovative service
Kitengesa Community Library is playing a vital role in ending the isolation of over 100 deaf children, who for the first time are sharing space with regular library users, taking part in lessons in computer use and English language, playing games and using Skype to communicate with friends in Canada.
The library reaches out to Good Samaritan School for the Deaf, where over 100 boarding and day students have enrolled for primary education and vocational skills training in tailoring, knitting and hairdressing, and learn Ugandan Sign Language.
Good Samaritan is a community-based organization, depending mainly on private donations which are barely enough to cover food, tuition, and health care. The library is therefore a vital resource for Good Samaritan, as it is for other schools in the town of Kitengesa, which is a rural trading centre in central Uganda.
Until 2012, when the library introduced its social inclusion programme, Good Samaritan students did not come to the library and were isolated from the larger community. Few Ugandans know sign language, and even within their own families, deaf children may be regarded as mentally retarded and unable to contribute to society.
Now, about 20 students from Good Samaritan visit the library every week, to use the computers, to read, meet their friends and play games, sharing space with the library's 650 regular users from the community. Partnerships with local schools enable the library to bring hearing students into contact with Good Samaritan students, helping overcome prejudice. "Through the library, deaf students learn from other community members by interacting with them," said Lydia, a student of Good Samaritan School for the Deaf.
The library's Popular sign language club
The library has established a Ugandan Sign Language Club, in which deaf students from Good Samaritan teach sign language to children who are not deaf. The club has 30 members, and over 25 soon learnt to communicate effectively with deaf students.
The library attracts volunteers from the University of British Columbia in Vancouver, Canada, who helped develop the ICT programme and who offered English lessons. Every Saturday, children from Good Samaritan come to the library to use Skype to chat to their friends in Canada.
More libraries contributing to digital inclusion 
Read about more innovative public library services that contribute to digital inclusion in the community. PLIP-DIGITAL-INCLUSION