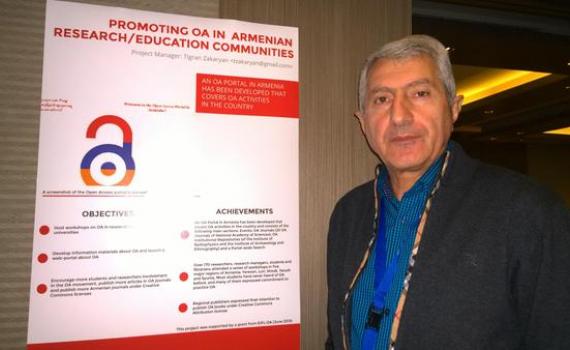 BACKGROUND
Support for and awareness about open access (OA) has been growing steadily in Armenia. 
In 2007, Armenia's National Academy of Sciences, supported by the Open Society Assistance Foundation, launched two high-quality OA journals: the Armenian Journal of Mathematics and the Armenian Journal of Physics.
In 2008 a workshop attended by academics, researchers and librarians from across the country led to development of a national OA strategy for Armenia, and publication of more OA journals. The workshop was organized by EIFL, the Fundamental Scientific Library of the National Academy of Sciences of the Republic of Armenia, and EIFL's partner consortium, Electronic Library Consortium of Armenia (ELCA).
In 2010, as awareness about OA spread, 20 major scholarly journals were converted into open access. The journals date back to 1940, and include over 2,000 issues with more than 32,000 articles.
In 2011 the Institute of Radiophysics at the National academy of Sciences launched Armenia's first OA institutional repository. The repository includes preprints of research articles, theses, dissertations and conference proceedings.
Although there was support for OA at the National Academy of Sciences, Armenia's university community, especially outside the capital city, Yerevan, lagged behind. By 2014 there were over 88,000 scientific research articles available in OA in Armenia, but theses and dissertations were not available online.  About 600 dissertations are defended annually in Armenia. 
OVERVIEW
To address these issues, ELCA implemented two EIFL-funded projects: 'Promoting open access in the Armenian research and education communities', and 'Enabling OA ETDs as High Priority Scholarly Resources for Armenian Research and Education Communities'. The two projects engaged members of the academic community from all over Armenia, including researchers and students from a wide range of universities and research institutes, journal editors and publishers, and librarians, in OA activities.
TIMELINE
June 2013 - November 2015.
MAIN ACTIVITIES
Hosting workshops on OA in research centres and major universities, reaching academics, researchers, journal editors and publishers, and librarians from institutions in all major regions of Armenia.
Developing information materials about OA and launching a web-portal about open access.     
Encouraging students and researchers to become involved in the OA movement, for example, by publishing articles in OA journals.
Encouraging Armenian journal editors and publishers to use Creative Commons licences.
ACHIEVEMENTS
The two projects:
Created and launched an open access web portal that includes information about OA events, OA journals, and OA institutional repositories.
Led to creation of a national OA repository for electronic theses and dissertations in Armenia. Titled Open Access Repository of the Armenian Electronic Theses and Dissertations (generally known by its short name, the Armenian ETD-OA), the repository already includes over 600 electronic theses and dissertations (ETDs). The repository is being adapted for use on mobile digital devices (tablet computers and smart phones). 
Built OA capacity and raised awareness in five major regions of Armenia: Yerevan, Lori, Shirak, Tavush and Syuniq. Most students in these regions had never heard of OA before; many are now committed to practising open access.     
Raised awareness about Creative Commons licences: all Armenian OA journals are published under Creative Commons Attribution licence. Armenia's National Academy of Sciences also plans to publish OA books under this licence.