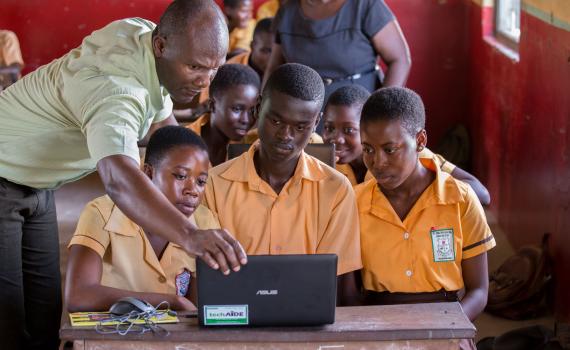 community need
Information and communication technology (ICT) is a formal, examinable school subject in Ghana. But most rural schools do not have computers or internet connections, and so children must learn about ICT in the abstract. As a result, failure rates are high.
The innovative service
With a grant from the EIFL Public Library Innovation Programme in 2012, Volta Regional Library equipped their mobile library with ICT and began a programme of hands-on computer classes for children attending poorly-resourced schools in Volta Region. Equipment included laptop computers, modem internet and solar panels to charge the laptops. To accommodate large classes, the mobile libraries also carried canopies, desks and chairs so that librarians could conduct outdoor classes. 
In 2014, thanks to the support of the technology company, Nokia, and individual donors who supported us through the online fundraising platform GlobalGiving-UK, EIFL was able to extend the project to three more regions of Ghana: Ashanti, Upper East and Western Regions. The expanded project travels to 25 schools, bringing solar-charged laptops pre-loaded with educational content related to the school curriculum, and teaching aids such as projectors and screens. 
eifl-plip project timeline
May 2012 - January 2020
Impact and achievements
The project proved to be a cost-effective model for providing access to technology and improving education in rural schools. It helped thousands of children to pass crucial exams.
In 2019, 92% of the children who attended the public libraries' hands-on computer classes in three regions (Ashanti, Upper East and Western) passed ICT in the Basic Education Certificate Exam (B.E.C.E.). The 2019 average continued a remarkable upward trend: in 2014/15, when the expanded project started, the average pass rate was just 45%; in 2016 it was 65%, in 2017 it grew to 81%, and in 2018 it was 85%. Passing the B.E.C.E. is crucial, because it is the gateway to secondary school. Children of poor families who fail the B.E.C.E. are often taken out of school, and cannot compete in the job market. 
The four regional libraries reached an average of 3,000 - 3,500 children in over 20 schools in poor and rural areas every year. 
The project improved ICT teaching in rural schools, building teachers' skills and enhancing classroom practice.
The project won the respect of parents and recognition for the libraries.
"Every week, parents move their children from other schools which are not benefitting from the project to my school. They want their children to have this opportunity to learn about technology and pass their exams," said Mr Francis Pepra Boansi, headmaster of Kwaaso Presbyterian Junior High School.
ADDITIONAL RESOURCES
Watch EIFL's videos about the Hands on computer classes for 1,800 Ghana children project:​
Read a two-page case study about Volta Regional Library's successful pilot project.
More libraries supporting education
Read about more innovative public library services that contribute to education of children and adults. PLIP-EDUCATION