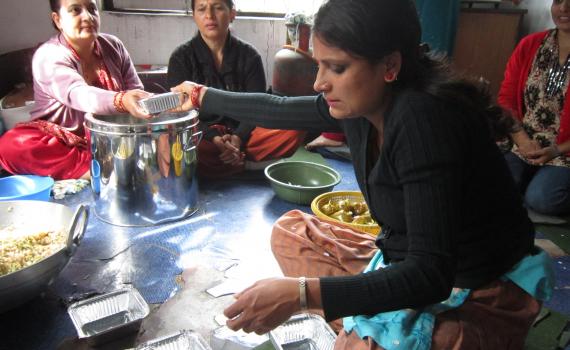 community need
Rural poverty in Nepal forces many families to migrate to Kathmandu, Nepal's capital city, where they end up living in slums and squatter settlements. Gender discrimination denies women the same rights and opportunities as men, and so many women are uneducated, illiterate and unskilled. Perceived to be ignorant, women are exploited; inability to contribute to the family income undermines women's self-confidence and self-esteem.
the innovative service
READ Information and Resource Centre's Capacity-building Initiative helps women and girls gain insight into their lives. The empowerment programme includes seminars and workshops on women's rights, gender equality, health, violence against women and other issues. The library encourages women to sign up for the women's group, which meets once a month in a separate section of the library where the women feel free to speak their minds.
Practical courses include literacy and numeracy, English language, ICT, entrepreneurship skills and hands-on classes in making goods for sale, for example, paper bags, snacks, pickles and New Year cards.
Holiday computer classes for schoolgirls
At weekends and during school holidays, the library offers short courses for girls from government schools which do not have computers. Trainers are all volunteers, and women who progress to advanced level ICT volunteer to train in the beginners' ICT classes.
In just two years after its launch in 2010, the Capacity Building Initiative for Women and Girls programme taught 70 women literacy and numeracy skills, and 122 women ICT skills. Fifteen trainees found good jobs, and were earning a living wage. Others have started small businesses.
more libraries empowering women and girls
Read about more innovative public library services that use ICT to empower women and girls. PLIP-WOMEN-AND-GIRLS