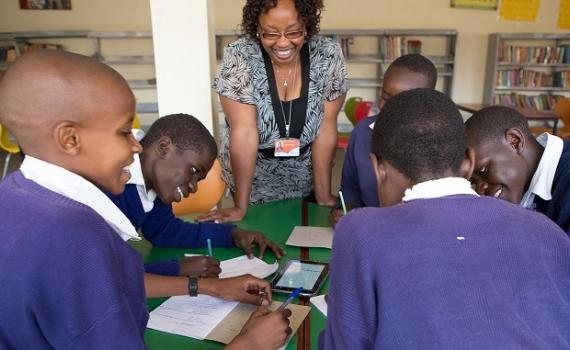 Posted by
Jean Fairbairn
, Communications Manager / Website, August 1, 2014
EIFL has released a new video which shows the impact of an EIFL Public Library Innovation Programme (EIFL-PLIP) supported project that uses tablet computers to support children's education in Kibera, the largest slum in Eastern Africa.
The video features Kibera Public Library, a branch of the Kenya National Library Service (KNLS). The library serves Kibera, a vast urban slum on the outskirts of Nairobi, Kenya's capital city, where thousands of families live in poverty in shacks made of wood, mud and metal.
Schools in Kibera are critically under-resourced and children must learn in classrooms that do not have electricity, computers or internet access. Poor education means that children struggle to pass exams; lack of access to technology further disadvantages them in a job-market that increasingly demands computer skills.
From the moment it opened its doors in June 2012, KNLS / Kibera Public Library made helping the children in its community a priority.
A small grant from EIFL's Public Library Innovation Programme equipped the library with seven tablet computers and an internet connection. The grant also enabled the library to design a computer skills and education programme, working in partnership with the Kenyan educational agency eLimu, which creates digital content for schools in fun formats like animations, video and quizzes.
Children flocked to the library to learn how to use the computers. Watch the video to learn more:
Watch the video now:
On Vimeo:
About the project
Kibera Public Library's successful tablet computer education project has won international recognition and support. Kenya National Library Service, a network of 60 public libraries, has received a grant from an international NGO to replicate the project in three more branch libraries that serve communities with limited technology and internet access.
Background
Since 2010, EIFL-PLIP has supported 49 new and innovative public library services that use technology to advance community development in Africa, Asia, Latin America and Europe.
Read more about EIFL-PLIP services and their impact.