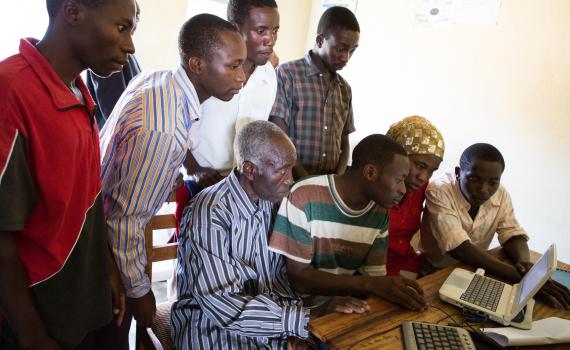 Posted by
Jean Fairbairn
, Communications Manager / Website, March 12, 2014
EIFL has released a new video which highlights the impact on farmers in a small community in rural Uganda when the local library receives laptops and internet connections.
Bwera Information Centre (BIC) is a tiny rural library in Kasese District in Western Uganda, featured in the EIFL video.
Over 87% of Uganda's 36 million people live in rural areas and are involved in farming, according to the World Bank. Without access to information about modern farming methods and equipment, many struggle to make a living.
Public libraries serve as critical information and information and communication technology (ICT) access points for people in their communities. There are over 130 public and community libraries spread across Uganda; however, many of these known and trusted information service providers do not have electricity, computers or internet connections.
Supported by a grant from the EIFL Public Library Innovation Programme (EIFL-PLIP), and led by the Maendeleo Foundation, Connect Uganda Project, installs solar panels in libraries to power android-based laptops and internet connections.
Librarians are now training farmers to use the computers and go online to look for the information they need – with remarkable results.
Watch the video now
Background 
Since 2010, EIFL-PLIP has supported 39 new and innovative public library services advancing community development in Africa, Asia, Latin America and Europe. Read more about the impact of EIFL-PLIP services. 
Every family living here needs food. If the farmers are not supported and have good produce you will not have food to eat