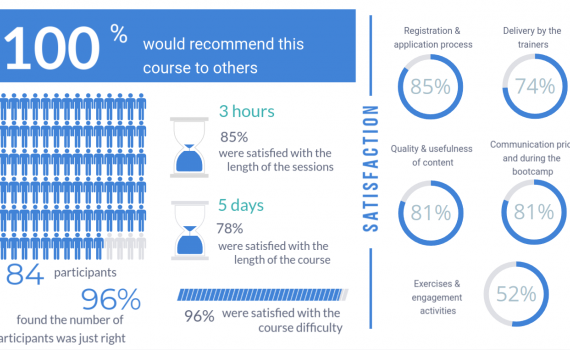 Posted by
Iryna Kuchma
, Open Access Programme Manager, April 27, 2023
EIFL bootcamp instructors Jonathan England, Iryna Kuchma, Irena Nježić, Ljiljana Radisavljević, Milica Ševkušić and Obrad Vučkovac share their reflections on the course, and lessons learnt.
Enhancing open science and open research skills by organizing train-the-trainer activities, creating training materials, and advocating for research incentives and structures that support and promote the acquisition of open science and open research skills are among EIFL's strategic goals. 
But bringing together trainers from almost 40 EIFL partner countries in Africa, Asia and Europe is a challenge - in-person meetings are too expensive. So we opted for free online meetings although we knew these would be challenging too, because it is difficult to find a time to suit many different time zones simultaneously, internet connectivity varies, and people joining online meetings from the workplace or home may get interrupted by work priorities and day-to-day life.
To minimize these difficulties, the bootcamp comprised synchronous meetings - live on Zoom - and asynchronous learning on OpenPlato, which is OpenAIRE's Moodle e-learning management platform. OpenPlato had been used successfully in OpenAIRE train-the-trainer bootcamps that we helped to co-organize in 2022. 
The invitation
We invited applications from librarians, research support staff and other professionals who were planning to deliver open science training for researchers and students in our partner countries. Some basic knowledge of open access was required, but we were open to participants without open science training experience, and we offered the usual learning outcomes for the course:  
Be able to communicate about why open science is an issue that researchers can't afford to ignore.
Be able to explain how to go about making research more open. 
Be able to explain how to progress a research career through practicing open science.
Understand how to communicate and teach (pedagogy) open access publishing, research data management, open data and open science to researchers and students.
Be more confident and better equipped to deal with difficult questions.
Be able to plan training activities; be aware of best practices in training design for online, face-to-face and hybrid events; understand how to work with diverse audiences; know how to evaluate the impact of training; and know how to make training materials FAIR (Finable, Accessible, Interoperable and Reusable). 
We asked participants to commit to five half-days for the duration of the course, which ran from 30 January - 3 February 2023. We all know that more than half a day of virtual meetings is tough, so we didn't ask for more. 
The response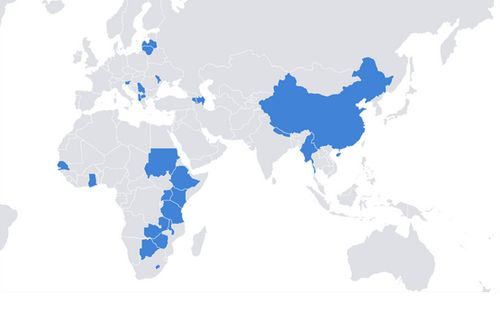 89 people applied. The two main evaluation criteria, each contributing 50% to the final score, were the potential and motivation to conduct open science training, and previous experience as a trainer, particularly on topics related to open access and open science. 
Our original plan had been to accept 40 applicants who would learn and work together to develop engaging open science training.  However we were able to accept 84 applicants -  twice as many as originally planned, as applications were very strong and we expected many to join asynchronous learning on the OpenPlato platform.
Participants came from 24 countries - Albania, Armenia, Azerbaijan, Botswana, China, Ethiopia, Ghana, Kenya, Latvia, Lesotho, Lithuania, Malawi, Moldova, Myanmar, Nepal, North Macedonia, Senegal, Serbia, Slovenia, Sudan, Tanzania, Uganda, Zambia and Zimbabwe. 
The bootcamp 
54 participants attended live Zoom meetings that lasted for three hours, from 8:00 to 11:00 UTC, during the five days of the bootcamp. 
45 participants engaged at times of their choice (asynchronously), and were active on OpenPlato. 
The OpenPlato platform included presentations and recordings of the live sessions and additional resources for trainers - exercises, guides, handbooks, instructional videos, train-the-trainer tips,  free and open source tools for interactive training, presentation templates and other 'how-to' materials that couldn't be presented within the limited timeframes of the live sessions.  
Using OpenPlato was a new experience for participants, and we were pleased with the results. Feedback was that the platform was easy to navigate, intuitive and interactive. Materials were easy to find and participants kept using them after the bootcamp. 
For future bootcamps some participants suggested more interactivity on OpenPlato - e.g. create more discussion between trainees and trainers and more collaborative activities. However, to make this possible we will have to find ways of ensuring those who have internet connectivity challenges can be included in online activities.
Participants' heterogeneous knowledge was another challenge we faced. Some were very knowledgeable and experienced open science trainers and others were just starting. 
Training experience was the one thing in common for all of them, so to encourage knowledge-sharing among participants we took the trainer's perspective in all the sessions, and included discussion on how to train researchers and students on open access publishing, repositories, research data management, FAIR principles, Data Management Plans, data sharing and publishing and open science. Participants were satisfied with the opportunity to interact with other participants and trainers. 
Gamification was one of our training approaches and we shared a list of 'serious games' on open science. Virtual pub quiz was a lot of fun, but one participant suggested we should consider a learning / social activity that is less competitive and more in line with the collaborative spirit of open science. 
What the participants said
About the course
"The way the course was structured and the amount of attention given to the different topics. It was just enough to provide a basic overview with directions on where to gain more knowledge. It would be great to also have more tasks and more practical work." - participant from the Faculty of Forest Sciences, Landscape Architecture and Environmental Engineering in Skopje, North Macedonia. 
"All areas were positive, I have been self teaching myself on Open Science so it somehow gave me a stronger foundation." - participant from Midlands State University in Zimbabwe. 
"It was very interactive! Hearing from colleagues from all over the world was enlightening." - participant from Vilnius University in Lithuania. 
"Discussions were very useful. I particularly liked the new tools on offer in the open access arena." - participant from Chinhoyi University of Technology in Zimbabwe. 
"All of the sessions were interesting. I've liked most the new tools in open science and data management plans and practices. Furthermore, the training materials are quite beneficial, and I am confident in my capacity to offer such training in the future. The trainers possessed the essential expertise and experience. I'd like to take this chance to express my heartfelt gratitude to EIFL, facilitators and trainers." - participant from Haramaya University in Addis Ababa, Ethiopia. 
How will the course affect their work?
"I have learned a new way of doing things/training and OpenPlato has shared numerous tools I will use to enhance my knowledge and skills. My anticipation is that my training will have a great impact." - participant from Mzuzu University in Malawi.
"It was a guideline and path showing that I think will help in any kind of training and day-to-day work." - participant from The International Centre for Integrated Mountain Development (ICIMOD) - an intergovernmental knowledge and learning centre working on behalf of the people of the Hindu Kush Himalaya, Nepal. 
"I am sure that much of what was said during the course I will use myself in my lectures. There was a lot of new information. And it was a very interesting presentation." - participant from Brusov State University in Yerevan, Armenia. 
"I will use some new tools and tips learnt in delivering future training." - participant from Institute of Field and Vegetable Crops in Novi Sad, Serbia. 
"Huge difference. The training equipped me with new knowledge and techniques. Therefore this will make me a better trainer." - participant from the University of Dar es Salaam, Tanzania. 
Use this link to access training materials. Our next bootcamp for trainers from EIFL partner countries is planned for the week of 13 November 2023, with registration opening in September.