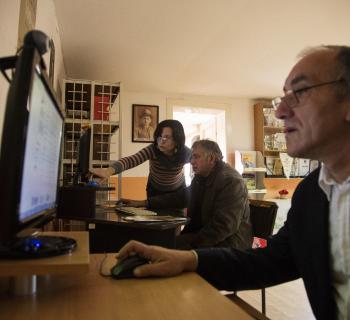 Public Library 'Radislav NikCeviC' in serbia helps farmers increase their incomes
Investment in rural areas of Serbia declined in the 1990s as a result of conflict, followed by economic recession. Village libraries could not afford new books, and many closed down and fell into disrepair. Without access to information, farmers' struggled to improve their farming methods and rural areas stagnated.
Jagodina is the administrative capital of Pomoravlje District in Central Serbia. Based in Jagodina, Public Library 'Radislav Nikčević' supervises 16 rural libraries in the district. The question librarians asked themselves was: how can we revitalize our rural libraries and serve farmers? The answer led to the creation of the Agrolib-Ja service.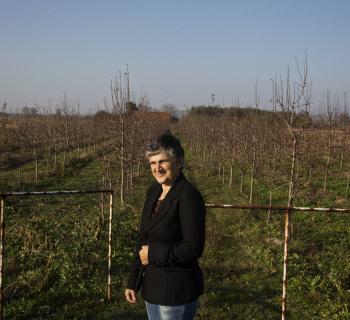 Library network to serve farmers
AgroLib-Ja was one of the first 12 innovative projects to be awarded a grant by the EIFL Public Library Innovation Programme (EIFL-PLIP), in 2010.
Coordinated by Public Library 'Radislav Nikčević', the AgroLib-Ja service connects farmers to information through a network of four rural libraries, in the villages of Bunar, Gagrdan, Glavinci and Glogovac. It offers farmers free access to computers and the internet, technology training, and access to new stocks of books and journals on agriculture. The service also organizes regular events and lectures where farmers can interact with representatives of local government, farm support agencies and agricultural research stations.
The AgroLib web-portal
As part of the service, the library developed a web-portal for farmers with agricultural information and links to rural development agencies; articles about modern farming methods, and news and information about the weather, market prices and agricultural fairs and events. A popular feature of the website is the AgroLib online market, which offers free advertising space for farmers to advertise their produce.
achievements and Impact
Inspired by the award of the EIFL-PLIP grant, Jagodina Town Assembly immediately funded renovation of the four village libraries and the facade of Public Library 'Radislav Nikčević' in Jagodina.
Farmers flocked to the libraries. In just one year (2010/2011), librarians recorded 1,175 visits by farmers to use the internet; 1,249 farmers attending lectures; 1,655 visits to use agricultural literature, and 6,158 hits on the AgroLib website.
A 2012 impact survey showed farmers' ongoing faith in the service. The majority of farmers surveyed said they used the service to look for agricultural information; over 70% said the service helped them increase production, and 50% said the information helped increase their sales.
In 2014 Library Director Ms Vesna Crnkovic counted 300 farmers who regularly use the AgroLib online market to sell their produce.
Dejan's story
Dejan Stanković is a dairy farmer who works with sheep and cattle. 
"The AgroLib-Ja team showed me how to make a profile on the AgroLib market, and I have now come across a lot of agricultural forums. I also found new customers. I think that the internet is a good way of associating farmers and a good way of exchanging experiences," he said.
One customer was especially happy: "In my family there are some of us who suffer from high blood pressure and we have a diabetic. I found this website AgroLib, and I was thrilled that such a site existed. Then I found out that there is a cheese made in a traditional way – dietary cheese. I was delighted. I called Mr Dejan, we talked about it and since then I have been buying this cheese constantly. The cheese is really good. It is their family tradition and they have been making it for a long time," she said.
Zoran's story
The AgroLib-Ja team invited Dejan StankovićMr Zoran Milošević, an agricultural engineer who farms quinces to advertise on the online market. Almost immediately, Mr Milošević sold 1,500 kg of quinces.
"I really didn't expect anything in the beginning.  On the very first day I opened a profile on the AgroLib market I got a call from a producer from Trnava village near Kragujevac. I got important contacts, and I think I will easily be able to sell the entire amount next season," he said.
It is of vital importance that in each community there is a place where people gather, exchange information and learn. Such centres should be libraries.
FACTS
70% of farmers who used the library in 2012 said the AgroLib-Ja service helped increase their yields
The AgroLib-Ja service has sparked new interest in village libraries as support centres for farmers.