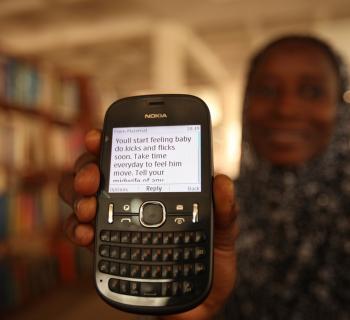 Northern Regional Library's e-health service keeps mothers healthy in rural Ghana
Enter the Northern Regional Library in Tamale and you will see a cavernous facility with white and cream-coloured walls that used to be a post office. Walk a bit further and what you will find is rare and wonderful in a country with high illiteracy rates and little access to computers: a traditional library that also serves as a modern technology hub.
In the library's main reading room, visitors sit in small cubicles reading and working quietly, while down the hall is a robust computer lab used to teach young people essential technology skills.
Nearby in the Maternal Health Corner, women watch videos about what to expect during childbirth on computers pre-loaded with practical information.
The idea for the Technology for Maternal Health project grew out of a monthly public lecture series hosted by Northern Regional Library in Tamale and Savana Signatures, a non-governmental organization that promotes the use of information and computer technology for development.
At one meeting, health workers expressed concern about high numbers of mothers dying in childbirth in Northern Region. They said they believed lack of information was one of the main factors putting pregnant women at risk.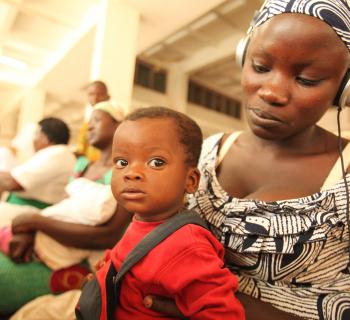 Mobile phone messages for pregnant women
In 2012, with a $15,000 grant from EIFL's Public Library Innovation Programme (EIFL-PLIP), the library and Savana Signatures worked with three local hospitals to develop a database of expecting mothers, complete with each mother's due date and phone number. A committee with representatives from the hospitals reviewed pre-written text messages (SMS) from the international health agency, Mobile Alliance for Maternal Action (MAMA), to ensure they were appropriate for Ghanaians. 
Savana Signatures also helped create a Maternal Health Corner in the library, where pregnant women and health workers have free access to five computers pre-loaded with maternal health information in lively formats, including video and animation. 
THREE WAYS OF REACHING NON-LITERATE WOMEN
To reach non-literate women, and women with limited English language skills, the library used three strategies: they registered husbands of non-literate women for the SMS service, sending them messages to pass on to their wives; they broadcast health education programmes on Northern Region's most listened-to station, Radio Savannah, and they organized public events where community members could meet midwives, nurses and doctors, and ask them questions.
achievements
In less than a year (2012/13), the service sent over 3,000 SMS to 94 pregnant women in rural parts of Northern Ghana, using mass texting software similar to Skype.
Librarians trained 15 health-workers to research the internet for up-to-date maternal health information, and to download material for use in educational sessions at hospitals and clinics. According to health workers, the videos are especially useful, said head librarian, Aaron Kuwornu. "We're now in the ICT era, or technology or computer age. The library should lead the way," he added. 
[This article is based on a blog published by the Bill and Melinda Gates Foundation.]
They will ask me, is my baby kicking? Sometimes they'll even tell me if I have a problem with my baby, if she doesn't kick normally, to contact my midwife.
FACTS
Northern Regional Library serves an average of 750 people per day.