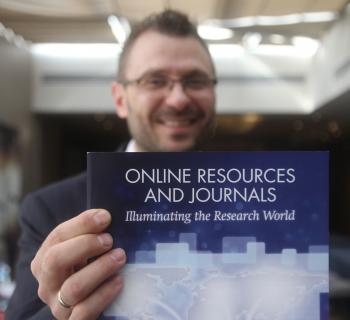 Publishers play an important role in producing valuable scholarly information in a variety of formats for use around the world. 
By negotiating with publishers and aggregators on behalf of library consortia and libraries in partner countries, EIFL can provide free or highly discounted access, plus fair terms of use, to a wide range of commercial e‑resources for libraries in EIFL partner countries. 
The following high-quality publishers and aggregators make their content available through our Licensing Programme.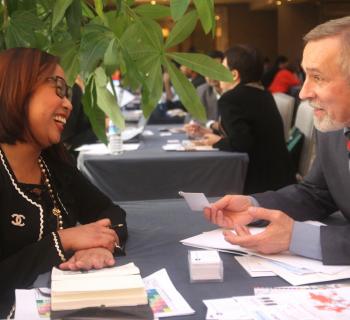 HOW IT WORKS
Step 1: Based on content requests and feedback from its partner library consortia, EIFL negotiates multi-year framework agreements with publishers and aggregators. Browse EIFL-licensed e-resources.
Step 2: EIFL signs contracts with each publisher to secure the prices negotiated for a specific resource, using the EIFL Model Licences as a base. View our model licences.
Step 3: EIFL promotes licensed resources to library consortia in EIFL partner countries.
Step 4: Library consortia interested in subscribing to a particular resource sign licensing agreements directly with the publisher.
Step 5: EIFL assists library consortia during the licensing process to ensure licences are completed properly and institutions have stable and static IP addresses.
KNOWLEDGE SHARING EVENT FOR PUBLISHERS
Publishers and vendors with whom we have agreements are invited to attend the annual EIFL General Assembly (GA). This is a great opportunity for publishers to meet Licensing Coordinators in EIFL countries face-to-face during our famous speed-dating event. There are plenty of opportunities to network during social events. Learn more here.
CONTACT US
If you're interested in working with EIFL, please contact Romy Beard, EIFL's Licensing Programme Manager at romy.beard@eifl.net.
As a result of our eight year partnership with EIFL, users at more than 200 institutions in over 30 developing and transition countries now have access to the full text of BioOne journals. We consider EIFL to be a critical component in fulfilling our mission to maximize access to the content of our 129 nonprofit publishing partners, and to foster international scientific coll