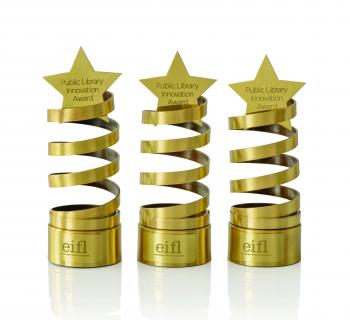 English | Español | Français | Русский
Call closed 8 November 2021. Winners to be announced early 2022.
PUBLIC LIBRARIES SUPPORTING EDUCATION RECOVERY DURING THE COVID-19 PANDEMIC
The award is open to all public and community libraries in developing and transition countries that use information and communication technology (ICT) to support education recovery during the COVID-19 pandemic.
Education recovery addresses learning losses by supporting learners, educators and the work of learning institutions. COVID-19 has disrupted education all over the world. Closures of educational institutions, still ongoing in many places, have affected billions of children, youth and adults, damaging their wellbeing, life chances and livelihoods.
To lessen education losses and accelerate progress towards achieving the UN Sustainable Development Goal on education (SDG 4), UNESCO has called on different players - from international organizations to governments, civil society, educators and students - to work together on education recovery.
By providing access to information and learning resources, digital infrastructure and skills training, and educational programmes for children and adults, public libraries are making vital contributions to achieving SDG 4. During the COVID-19 pandemic, public librarians worked hard to adapt and continue library services, including many different kinds of educational services, under lockdown, quarantine and other restrictions.
The 15th EIFL Innovation Award call seeks to showcase public library services that use ICT to support education recovery.  In addition, we are interested in identifying services where public libraries and higher education libraries collaborate in supporting education recovery.
Tell us your story and enter a competition to win a prize of US$1,500!
The deadline for applications is Monday, 8 November 2021.
We are accepting applications in English, French, Russian and Spanish.
EXAMPLES AND IDEAS
Note, the list below includes just a few ideas and examples of libraries using ICT to support education recovery during the COVID-19 pandemic. Please do not be limited by this list.
A public library in Peru offers maths classes via Zoom to help students prepare for university entrance exams.
A public library in Kenya distributed refurbished smartphones pre-loaded with mathematics tutorials, storybooks and past exam papers to encourage secondary school students to learn and revise when schools were closed.
A Kenya public library / Book Aid International partnership offered STEAM training (an educational approach that integrates science, technology, engineering, the arts and maths) to headmasters and teachers to boost their efforts to help children catch up with their studies.
During lockdowns in Ukraine, a public library started video art classes based on a children-teach-children approach that helped to keep children busy, active and creative.
A public library in Lithuania moved their English language practice club to an online platform when the library was forced to close. The transition to online has helped to attract new learners. 
Who may enter?
To enter the competition, you must meet all of the following criteria:
You must be a public or community library.
The library must be in a transition or developing economy country [pdf].
The service you are submitting must use digital information and communication technology (ICT).
The service should have started in or after January 2020.
The service should have been operational for at least 12 months, and must be operational at the time of application.
You must provide evidence of positive results of the service or impact in the target community, including statistics of service usage, numbers of people who benefited, stories by service users about how the service has helped them to catch up with their education and/or continue learning during and after restrictions that aimed to prevent the spread of COVID-19.
Only one service can be presented by each applicant. Additional services or projects presented in the application will not be considered.
Note:
We expect applicants to demonstrate innovative uses of technology, partnerships, and positive results (impact) of the service in their communities, showing how the service addresses educational needs and supports education recovery.
We will not accept applications seeking funding to start new services.
When can you enter?
This call is now open. The deadline for submitting applications is Monday, 8 November 2021.
What will you win?
Each winner will receive US$1,500; and
International publicity – EIFL will share your innovative service story widely through its publicity channels.
Number of awards
There will be more than one award – the number of award-winners will depend on the quality and diversity of applications received.
Further details about this award and how to apply