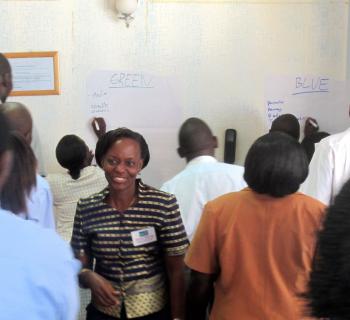 THE CHALLENGE
To offer new services that use technology, public librarians need new skills.
The EIFL Public Innovation Programme (EIFL-PLIP) helps to build the capacity of librarians so that they can introduce technology, manage new services, build non-traditional partnerships and engage with communities in new and different ways.
WHAT WE DO
We build librarians' capacity to develop new services that meet community needs.
We train librarians to measure the impact of new and innovative services.
We develop librarians' advocacy skills so that they can advocate with government and other potential supporters to generate resources for new services.
Using our new advocacy and communication skills, we waged a relentless campaign for the completion of the Sunyani Regional Library complex, which had been started in 2004, but had been virtually abandoned in 2011. With the support of media, youth groups, political activists and students, we succeeded. The authorities handed over the project to a new contractor.
FACTS
In 2017 EIFL-PLIP built new service development, project management, communications and advocacy skills of over 400 public librarians. 
In 2013 EIFL was awarded a WSIS Project Prize for Excellence in the category Capacity Building for the work of EIFL-PLIP.