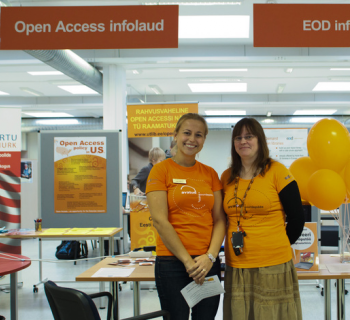 Every year, libraries around the world advocate for change by taking part in International Open Access (OA) Week, a global event established by SPARC and partners in the student community in 2008, which is an opportunity to take action in making openness the default for research — to raise the visibility of scholarship, accelerate research, and turn breakthroughs into better lives.  
Universities, colleges, research institutes, funding agencies, libraries, and think tanks have all used OA Week as a platform to host faculty votes on campus OA policies, to present on the social and economic benefits of OA, to commit new funds in support of OA publication, and more.
The theme for this year's 10th International Open Access Week, to be held October 23-29, will be "Open in order to…".
This year's theme is an invitation to answer the question of what concrete benefits can be realized by making scholarly outputs openly available. "Open in order to…" serves as a prompt to move beyond talking about openness in itself and focus on what openness enables—in an individual discipline, at a particular institution, or in a specific context; then to take action to realize these benefits.
Open in order to increase the impact of my scholarship. Open in order to enable more equitable participation in research. Open in order to improve public health. These are just a few examples of how this question can be answered.
This year's Open Access Week will be held from October 23rd through the 29th; however, those celebrating the week are encouraged to schedule local events whenever is most suitable during the year and to utilize themes that are most effective locally.
This year's theme of "Open in order to…" also recognizes the diverse contexts and communities within which the shift to Open Access is occurring and encourages specific discussion that will be most effective locally. We invite the community to help us translate this prompt into new languages at bit.ly/translateoaweek
Last year's "Open in action" theme encouraged all stakeholders to take concrete steps to make their own work more openly available and encourage others to do the same — from posting pre-prints in a repository to pledging to educate colleagues about Open Access. The 2017 theme will help build on that emphasis on action by identifying the end goals Open Access can enable and encouraging individuals and institutions to take steps to achieve those goals.
International Open Access Week is a global, community-driven week of action to open up access to research. The event is celebrated by individuals, institutions and organizations across the world. The official hashtag of Open Access Week is #OAweek. We also invite the community to use the hashtag #OpenInOrderTo to start an online conversation about the benefits of an open system of communicating scholarship.
For more information about International Open Access Week, please visit www.openaccessweek.org.
The EIFL Open Access programme encourages libraries across the EIFL network to take part in OA Week, and helps them prepare for this exciting global event.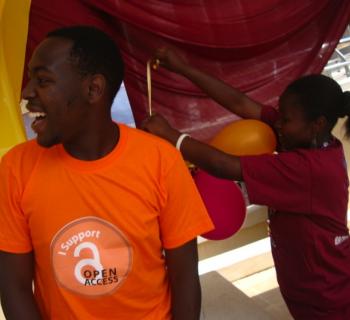 GET INVOLVED
Participating in OA Week can be as simple or involved as you like. It can also be a chance to give your imagination full rein and come up with something ambitious, wacky, fun. 
This year's OA Week will be held from October 23rd through the 29th; however, those celebrating the week are encouraged to schedule local events whenever is most suitable during the year. 
You can learn more by visiting the official website. 
Mark the date in your calendar, start planning your OA events and, if you are from an EIFL-partner country, please contact Open Access Programme Manager Iryna Kuchma iryna.kuchma@eifl.net to learn more.
For me, open access means providing an enabling environment for research to take place anywhere in the world without any barriers to scholarly information.
FACTS
All EIFL partner countries host advocacy and awareness-raising workshops during Open Access Week.