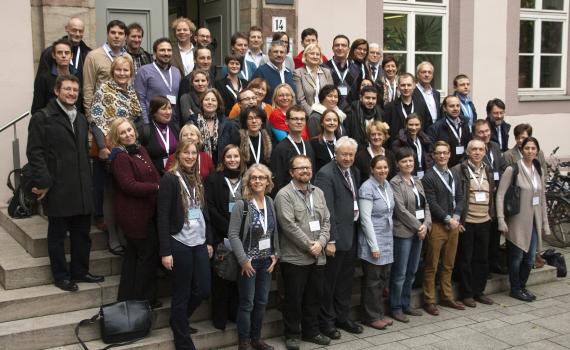 BACKGROUND
The OpenAIRE (Open Access Infrastructure for Research in Europe) project was established to support the implementation of open access (OA) in Europe.
The project was launched to promote and realize the widespread adoption of the Open Access Policy, as set out by the European Research Council (ERC) Scientific Council Guidelines for Open Access and the Open Access pilot launched by the European Commission (EC).
The Open Access pilot covered approximately 20% of FP7-funded research and mandated that research to be made available in OA. In 2014 EC adopted a new policy covering 100% of Horizon 2020-funded research. In addition, the Commission introduced an Open Data pilot in Horizon 2020 (H2020).
OVERVIEW
EIFL participates in the OpenAIRE project along with 50 partners from all European Union countries, and beyond.
Within the past five years the project has developed a portal and e-infrastructure that harvests publications, open access scientific datasets and provides inter-linking between publications, data and funding schemes. The portal covers all types of scientific outputs, funded by the EC, and is widening to other European funding streams. The OpenAIRE Guidelines were developed for Data Archive Managers, for Literature Repository Managers and Current Research Information Systems (CRIS) Managers to ensure interoperability between these research infrastructures.
The project also set-up an extensive European Helpdesk System, based on a distributed network of national and regional liaison offices in 27 countries, to help researchers to make their research open access and comply with funder mandates. It also provides a repository facility for researchers who do not have access to an institutional or discipline-specific repository.
EIFL's MAIN ACTIVITIES
Coordinating activities of the National Open Access Desks (NOADs) in 12 Eastern European countries: Bulgaria, Croatia, Czech Republic, Estonia, Hungary, Latvia, Lithuania, Poland, Romania, Serbia, Slovakia and Slovenia
Leading a task on Horizon 2020 OA policy training and support providing the body of resources to facilitate the easy uptake and comprehension of the OA mandate to publications among a wide range of stakeholders. 
Helping project coordinators to comply with OA funder's requirements
Assisting repository managers and journal editors and publishers to make their repositories and journals compliant with the OpenAIRE Guidelines
Working with national research funders to align their policies with EC OA policies
Organizing conferences, workshops and other knowledge sharing and community-building events and activities to promote availability of OA publications and research data
TIMELINE
December 1, 2009 - June 30, 2018 (OpenAIRE, OpenAIREplus and OpenAIRE2020 projects).